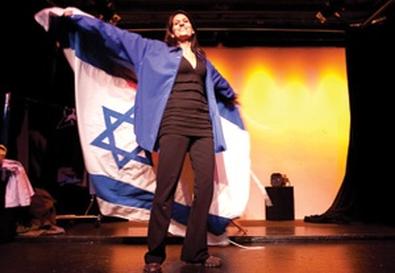 It would seem playwright-performer Yafit Josephson has, in her 20-something years, gone through more than most would expect to experience in a lifetime. Though she was born in Los Angeles and raised in Ramat-Hasharon, Israel, where she was brought up in a loving home by doting parents who encouraged her desire to pursue an acting career, her mandatory two-year stint in the Israeli Defense Force—during which she faced life-and-death circumstances—serves as the springboard for the story Josephson and co-writer Suzanne Bressler have so expertly constructed. This 80-minute one act seamlessly leaps between the past and present, tying together Josephson's childhood, military service, and career path into a journey of personal growth and self-esteem.
Director Sammie Wayne deserves a heaping serving of credit for keeping things on track as the script spans time periods and continents. Along the way, Josephson details her struggles with family identity and cultural legacy, introducing her audience to nearly 20 different individuals from numerous countries who played influential roles in her development. Her expert ear for accents and ability to slip from one persona to the next guides us through this cast of characters. Most are quite funny—including the Hollywood types she encounters, the plastic surgeon who urges her to do something about her nose, and the homage she pays her nuclear family.
This piece becomes truly memorable when Josephson recounts a return visit to Israel. Older and more receptive, she embraces her heritage and the strength it offers to her on a geopolitical and a personal level. Her juxtaposition of the differences between Israel's Memorial/Independence Day traditions and those of the U.S. is particularly chilling.
Wayne's lighting and Emir Isilay's editing of flawlessly interspersed voiceovers and sound cues round out the production. Ultimately, however, Josephson's boundless energy and desire—not just need—to share her story transform her narrative from the traditionally cathartic autobiographical tale to one that is inspirational.
Presented by Josepel Productions at the Whitefire Theatre, 13500 Ventura Blvd., Sherman Oaks. Jan. 8–Feb. 13. Thu.–Sat., 8 p.m.; Sun., 3 p.m. (323) 960-7712. www.plays411.com/neweyes.