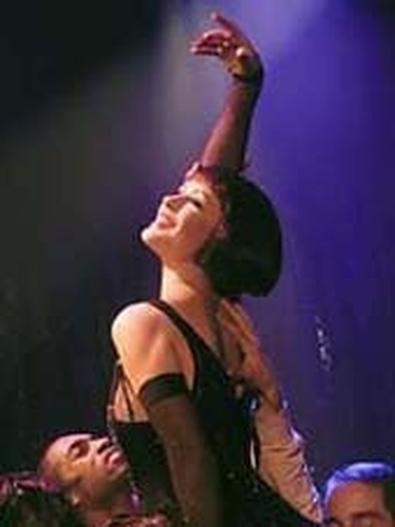 Who said Hollywood musicals are dead? Twenty-seven years after choreographer Bob Fosse's show "Chicago" about murder, lust, celebrity and all that jazz debuted on Broadway, it has finally made it to the big screen.
With stars not normally known as singers or hoofers--Renee Zellweger, Catherine Zeta-Jones and Richard Gere--"Chicago" follows in the dance steps of last year's Oscar-nominated "Moulin Rouge." Opening on Friday, "Chicago," tells the story of two 1920s chorus girls who land in jail and battle each other for fame.
The buzz is that if it is a hit--and it just picked up eight Golden Globe nominations--then musicals could be making a big comeback in Hollywood.
After the golden age of big screen musicals like "South Pacific" and "The Sound of Music" in the 1950s and '60s, the genre fizzled in the last two decades, when Broadway hits like "Annie" or "A Chorus Line" flopped at the movie box-office.
Sure, there was the artistic triumph of Fosse's Oscar-winning "Cabaret" and a host of Andrew Lloyd Webber "pop" musicals and vehicles like "Grease," "The Rocky Horror Picture Show" and "The Little Shop of Horrors," but the classic Broadway show, with big choreographed numbers and chorus lines, just didn't light up the silver screen.
In the meantime, a new generation of moviegoers grew up with MTV-style music videos and, to them, the whole idea of a singing-and-dancing play was as alien as 18th century opera.
All that may have changed with the razzle-dazzle "Chicago," as its stars were keen to point out to reporters recently.
"People find it hard when the action stops and actors start bursting into song," said Zeta-Jones. "(But) 'Moulin Rouge' paved the way for us and I would like to see more.
"The genre has been sorely missed and should make a comeback," said the Welsh actress, who though best known for her dramatic roles appeared in the musical "42nd Street" in London's West End when she was 17.
"Paint Your Wagon"--Nadir of the Screen Musical
"Musicals? They did bad ones and they became a little cheesy," was Zellweger's verdict. "They weren't entertaining and became formulaic; they just went away."
"They just weren't well done and had no connection with audiences," agreed Gere. "'Moulin Rouge' created a new genre, but this ('Chicago') is more like a traditional musical."
Gere, who learned to tap dance for his role, recalled the Lerner and Loewe show "Paint Your Wagon," which for many critics and fans represented the nadir of the screen musical, with Lee Marvin's off-key growl of "I was Born Under a Wand'rin Star" in the 1969 movie version.
"There was a series of (bad) movie musicals in a row at a time of realistic drama," said "Chicago" first-time director Rob Marshall. "They got overbloated and it was cringe-time when they opened their mouths to sing."
That is not the case with his movie, whose stars do all their own singing and dancing and surprise somewhat with their ability to belt out a show-stopper.
"I loved anything with music (growing up) and I had wondered why they stopped making them," said rapper/actress Queen Latifah, who sings a knockout Bessie Smith-style number "When You're Good to Mama" in the movie.
"With 'Moulin Rouge' and this, I hope people will come out and see it so more musicals are made," she said.
The movie version of "Chicago" has a long history with constant speculation about whether it would ever be made, and then whether it would star Madonna, Liza Minnelli, Goldie Hawn, Barbra Streisand or Bernadette Peters. Every big-name actress seemed to be lobbying to play either Roxie Hart, the not-so-innocent ingenue who dreams of becoming a Vaudeville star, or her conniving nemesis, Velma Kelly.
Slimy Lawyer with an Eye for Sensationalism
The two roles, played in the original stage production by Gwen Verdon and Chita Rivera, eventually went to Zellweger and Zeta-Jones as dueling divas who end up in prison. Gere plays the slimy lawyer Billy Flynn with an eye for sensationalism whom they turn to to get off murder raps.
"Chicago" is based on the 1975 Broadway show, with its music and lyrics by John Kander and Fred Ebb. Before that there was a 1942 film starring Ginger Rogers, which was a remake of a 1927 silent movie, which was a screen version of the 1926 play "The Brave Little Woman," which was inspired by court reporter Maurine Watkins' writing in the Chicago Tribune at a time when intense newspaper competition demanded sensational stories.
"The show came out the same year as 'Chorus Line,' so it was completely overshadowed," said Marshall, who choreographed the recent revival of "Cabaret" on Broadway,
"People thought it was dark and too cynical. Also it was cutting edge. People were saying 'shit' on stage and killing people."
Oscar-winning screenwriter Bill Condon said the show has always appealed to audiences on different levels. "Fosse said in 1975 that the show was all about Vietnam. In 1996 when it was revived on Broadway, it was said to be all about O.J. Simpson and now it's the whole cult of celebrity."
Marshall said he had actually been lobbying to make a film version of the hot musical "Rent" when he met with executives of Miramax, which had optioned "Chicago" back in 1994.
The company had agonized over how to translate the stage show to the screen. When Marshall outlined his concept for "Chicago," in which the numbers take place inside Roxie's head and are interspersed with live action, Miramax boss Harvey Weinstein and producer Marty Richards were sold, he said.
Actually, making the movie was bucking a recent trend for making musical shows out of films, like "The Producers" or "Hair Spray," said Marshall.
"But there are plenty of musicals out there to be filmed," he said. "I would love to do (Stephen) Sondheim, maybe 'Into the Woods' or 'Sweeney Todd' or 'Follies.'"
----------------------------
COPYRIGHT: (c) Reuters 2002. All rights reserved. Republication or redistribution of Reuters content, including by caching, framing or similar means, is expressly prohibited without the prior written consent of Reuters. Reuters and the Reuters sphere logo are registered trademarks and trademarks of the Reuters group of companies around the world.