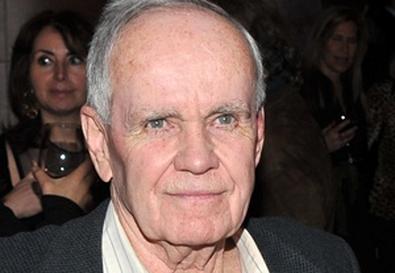 When I ask a man if he's ever read a book by Cormac McCarthy, I find an answer in the negative to be just as surprising as if I'd asked him whether he'd ever watched a John Wayne movie, or changed a tire, or drunkenly belted out "Welcome to the Jungle" in a bar. But I try not to judge: Most of McCarthy's novels are too violent (and too awesome) to be taught in schools, and though his masterworks "
Blood Meridian
" and "
Suttree
" both routinely find themselves on
lists of the best American fiction
, it's understandable that someone might never have read anything of his. But thanks in large part to the Coen brothers' 2007 adaptation of his novel "No Country for Old Men"-which won four Oscars, including best picture-McCarthy, at 78, is more famous now than he's ever been.
Which leads me to "The Counselor," McCarthy's first-ever spec script, currently speeding toward production at a pace generally reserved for "Transformers" sequels. The script sold in January, and it's already scheduled for a spring shoot, with Ridley Scott directing and Michael Fassbender in the lead. Also rumored to be in the cast are Javier Bardem, Natalie Portman, and Jeremy Renner. Not too shabby. Fassbender plays the titular counselor, an unscrupulous lawyer who gets involved in a major drug deal with an acquaintance. Everything goes swimmingly, and nobody dies.… No, wait. The opposite of that. Rumors were that this was going to start shooting as early as April, but the producers are probably still working the phones trying to corner the world's supply of fake blood, because they're going to need all of it. Can't wait. New York casting director Avy Kaufman will be casting Dead Cartel Soldiers 1–1,000, among other roles.
Another film that sounds McCarthy-esque in plot is also lining up a stellar cast: "Out of the Furnace," director Scott Cooper's follow-up to 2009's "Crazy Heart," is scheduled to shoot in April in Atlanta. Christian Bale is set to play the lead, with Zoe Saldana and Robert Duvall starring alongside, possibly, Casey Affleck, Viggo Mortensen, and Shannon Elizabeth. Okay. I lied about the last one, but even so, also not too shabby. The script, a 2008 Black List honoree written by Brad Ingelsby, follows a man newly released from prison who is drawn right back into the criminal underworld when his brother is murdered by unsavory types, and he must slake his thirst for revenge. Ronna Kress is casting this one.
Hopefully both of these films turn out well, despite Jeff Bridges having a role in neither, somehow. On a slightly related note, if anyone wants to borrow my copy of "Blood Meridian" (or "The Searchers" or "Appetite for Destruction"), feel free to contact my editor.