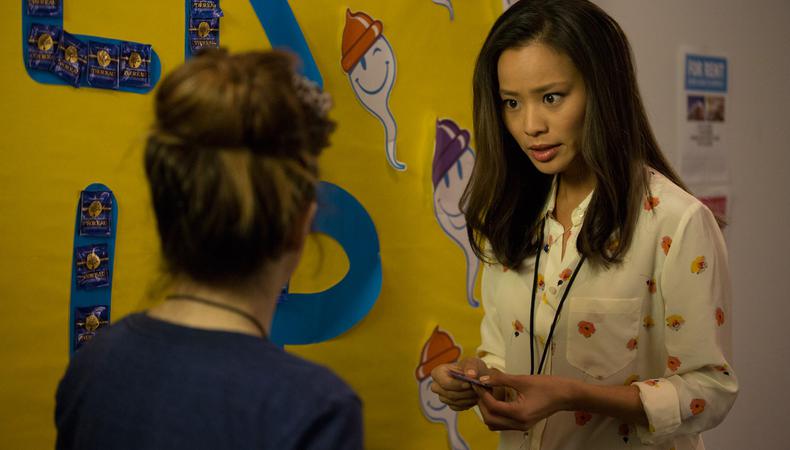 Ira Ungerleider is partly responsible for the number of shows currently on television that deal with 20-somethings trying to figure out their lives (i.e., "Girls," "Broad City"). An early architect of "Friends" who wrote some of the show's most iconic episodes, such as "The One Where No One's Ready," the writer is now stepping back a few years to the confusing college days of keg stands and one-night stands.
As Ungerleider noted, there are few shows set in college, save for the likes of "Undeclared," "Felicity," and "Greek," and those that eventually shift into the higher education years. "It's been very hard to sell college shows—but now you can do shows about your dad transitioning from a man to a woman because of streaming services, so you can sell more niche shows," Ungerleider says.
One of those niche shows is "Resident Advisors," a new series from Hulu about the titular arbiters of dorm room etiquette, executive produced by actor Elizabeth Banks ("The Hunger Games"). Jamie Chung plays the uber-responsible Olivia, who heads up a group of student RAs that includes "Saturday Night Live" writer Alison Rich, "The Mindy Project" actor Andrew Bachelor, Graham Rogers of "Revolution," and "Veronica Mars" favorite Ryan Hansen, who plays an RA past his college prime (aka the super senior). The series feeds off the dynamic that comes from college kids policing one another—the insane running the asylum.
Ungerleider welcomes the opportunity Hulu affords. "[College was] when I was able to figure out who I was outside of my family," he explains of his time at Northwestern University. "You can start out as one person as a freshman and come out as another person senior year. I was a clean-cut, conservative, shy, bookish kid. I left with long hair, a goatee, a super hippie liberal."
"Resident Advisors" is Ungerleider's first foray into digital programming after working on network shows like the recent "Mixology" and the upcoming Rashida Jones cop comedy "Angie Tribeca." The sometimes producer was partially attracted to "Resident Advisors" because it was only seven episodes, likening it to a short run of a play. He was also given the opportunity to direct the entire run, something Ungerleider, who has spent most of his career as a writer, was excited to pursue.
Ungerleider admitted a smaller budget made shooting more difficult. "Resident Advisors" would shoot 13 pages in a day, while "Angie Tribeca" shot only three to five pages a day. "You have to call in a lot of favors," he says. "Everyone who wanted to be there wanted to be there—they weren't doing it for the money, because there was none." But smaller budgets also mean considerably more narrative freedom.
Ungerleider is already planning for Season 2 if Hulu decides to take it on. "I've had my share of awkward sexual encounters and disastrous alcohol experiences. We've only tipped the iceberg at this point," he says about the show's plot points. "There are so many awkward sexual encounters to come."
Like this story? See more of our Now Streaming articles here!