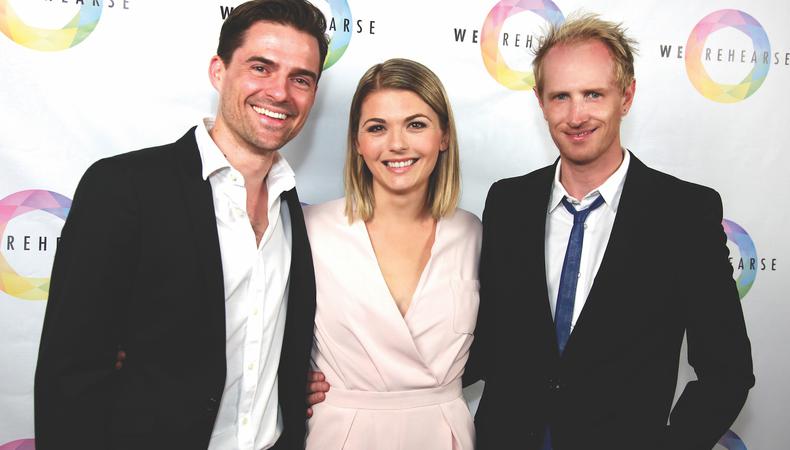 It's Tuesday afternoon and on the way to your bartending-restaurant-yoga teacher survival job, you check your email: You've got an audition tomorrow at 4 p.m. for a big pilot.
Between now and then you figure you have, at most, a solid five hours to learn your lines before you're expected to be in Santa Monica for your reading. But your roommate's out of town, you can't afford to pay an acting coach this week, your sister's tired of running lines with you on Skype, and considering you've just moved to L.A., your friend pool sits somewhere between small and nonexistent—leaning more toward the latter.
Before April 2015, there was little to be done here, but thanks to three forward-thinking actors, being unable to find an impromptu scene partner is becoming a thing of the past. Jessica Rose, Darren Darnborough, and Richard Cambridge, founders of WeRehearse.com, have built a network for actors looking for readers, and for actors and coaches alike who want to make a few extra bucks by getting hired as a scene reader.
"When Jess sent me that [idea] I was actually in my dressing room for a job," explains Darnborough, who serves as chief strategy officer of the company. "I was on '2 Broke Girls' and the script had just been changed last minute and I was alone in my dressing room. The way I normally learn scripts is by reading them with other people. And I thought, I'm on a job now, I've got to sit here and learn this myself, and when she sent me the survey, I thought, Oh gosh, if this existed right now, I'd be using it right at this moment."
Geared toward building a quality community, WeRehearse shows a potential reader's professional capacity with a user-driven rating system and clear-cut experience levels split into four tiers, which range from Community (readers can't yet set a fee but can accept cash tips delivered via PayPal) to Expert (readers can set any rate after meeting or exceeding an average of a four-star rating and over 50 reads at the previous level). When perusing probable scene partners, one can also view a short bio, previous credits, and their current one- to five-star rating.
Once they've enlisted a fellow actor or a coach's help, users are able to securely upload scripts to use during their video session and provide feedback on the session when completed.
"[WeRehearse.com is] encouraging actors to help each other," explains Darnborough. "The thing I really love is that it's useful, but it also helps people in the community learn from each other. We want to get across that it's good to work with friends as well as people you don't know to get as much variation [in your performance] as you can.
"Our system helps use time effectively as auditions get more and more last-minute. Having been an actor for 16 years, I used to get two to three days [to prepare for an audition] because they'd leave a message and hope you catch it. There's much less time now, so having the prep time is very valuable," Darnborough says.
The trio plans to eventually add interactive workshops and seminars to the site featuring acting coaches, agents, managers, or anyone with information to offer the working actor. Until then, jump on the site and start learning from your fellow thespians!
As Cambridge says, the site is "all the things that we as actors know that we wanted."
Inspired by this post? Check out our audition listings!