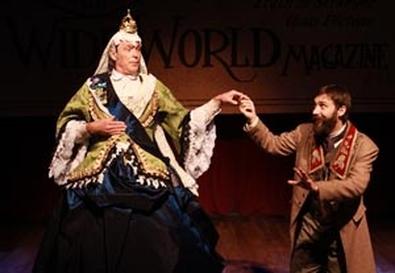 The seemingly endless economic stagnation that began in 2007 has taken its toll on theater communities across the United States. But are the worst days in the rear view? It may be too early to say, but two new studies from
Theatre Communications Group
—a national organization of professional, community, and university theaters—reveal reasons to be optimistic.
Last month, TCG released its most recent annual "Theatre Facts" report, which examines the fiscal health of the professional nonprofit theater sector in the U.S. at the end of 2010. A companion survey, "Taking Your Fiscal Pulse—Fall 2011," provides a snapshot of the fiscal health of several nonprofit theaters at the end of this year. While studies in the past few years have painted a picture of an industry struggling to meet economic challenges, the most recent numbers have Teresa Eyring, TCG's executive director, expressing cautious optimism.
"No, it's not all doom and gloom," Eyring said. "We actually saw some really positive developments in 2010."
Among those positive developments: 62 percent of the theaters surveyed finished 2010 with budget surpluses, "far and away better than the previous two years," according to Eyring. The study found that the theaters' average earned income increased for the first time since 2007, thanks to greater earnings from single-ticket sales and endowments. Meanwhile, the companion study found that a majority of the theaters expect to finish 2011 with a budget surplus.
Eyring attributes those developments to greater entrepreneurial thinking by theaters about how to operate in the new economic reality. For instance, she attributes the growth in single-ticket income—outpacing inflation by 16.7 percent over the last five years—to strategies such as "dynamic pricing," in which theaters charge higher ticket prices when demand for a show is high and drop prices to lure theatergoers to shows struggling to find an audience.
"I think what's happened over the last few years is that the theater community on the whole took the time to really recalibrate, to reduce expenses in some areas," Eyring said.
She added that theaters have grown more creative about engaging their communities and that those efforts have reaped rewards. Subscription sales—the old method of community engagement, in which patrons purchase a package of tickets for a whole season of productions—are withering, declining in each of the last three years. At the same time, an increasing number of theaters are inviting patrons in for staged readings and backstage tours.
Also, according to Eyring, theaters have become more focused on hiring local artists, working with playwrights, directors, and actors from their own communities. It doesn't hurt that theaters don't have to pay for travel and lodging for local artists.
"Maybe at a certain point there is an economic incentive for hiring more locally," Eyring said. "But I think it's also shifted into more of a community consciousness that it's important to support and engage with the people who are in your backyard."
Locally Grown
Half the actors that Idaho's Boise Contemporary Theater employs this season will be local, and three of the company's mainstage productions will be plays written by Idaho natives. According to managing director Helene Peterson, that kind of engagement with local artists is the norm for BCT. "That's just part of the mission of the company," Peterson said. "It's not necessarily a strategy."
The theater owns its building outright, which has helped it avoid the crippling debt that other institutions have found themselves carrying in recent years. But BCT has had its own painful moments in this economic crisis. The worst came in 2008, when it had to cancel a production of "Euripides" to avoid fiscal disaster. Things have improved since then, however, to the point that the theater has added two small, short-run productions to its usual four-show mainstage season. BCT has also initiated reading series for new and children's plays, produced its own concerts, and explored hosting other special events to generate income and draw new audience members.
"We've had to really, in a way, diversify the stuff that we do as a company in order to survive," Peterson said. "Try to broaden the pillars of support that we have."
Drawing new audience members has been a constant goal for Anna Brennen, founder and producing artistic director of Stageworks, whose Tampa, Fla., company moved in August into its own brand-new, 99-seat black-box theater on the ground floor of a 14-story commercial and residential building in the city's burgeoning waterfront district. The project began in 2006, when the space was donated to Stageworks. But the money to turn it into a theater still had to be raised—a task that became even more challenging when the economy tanked the next year.
"I think it's almost a magical, a phenomenal, an unbelievable feat to have accomplished having a $1.2 million theater built in the middle of the depression—which is what we've been in," Brennen said. "We actually raised the money and built this space out in that time."
Since moving into its first permanent home, the company has focused on programming some shows to appeal specifically to younger theatergoers. Brennen is also developing a strategy for targeting the young white-collar professionals in the theater's new neighborhood, then broadening the audience from there.
"It's going to take a while to build that," she said. "We have to reach them, and then we have to reach their friends who live elsewhere."
'New Normal'
While theaters such as BCT and Stageworks have managed to grow during the economic downturn, they have done so cautiously. As Peterson noted, "I would say that we're not out of the woods. I would say it's kind of a new normal of being cognizant of the economic challenges in our community."
And on the national scene, not everything is cause for optimism, however cautious. According to Eyring, some figures indicate that even tougher days could be ahead. For instance, TCG found that, on average, the working capital of the theaters surveyed declined over the last five years, with severe drops in 2009 and 2010.
"That can be exhausting, frankly," Eyring said, adding that theaters with little working capital often lack the resources to experiment artistically. "Over time, if the working capital in the field gets less and less, we're going to see more organizations in the pinch."
Then there are the theaters that have continued to struggle mightily. There are plenty out there, according to Eyring. But she seemed encouraged nonetheless. "When I look at the research, it's heartening," she said. "There are different ways that people are making theater that don't look exactly like theater has traditionally looked."