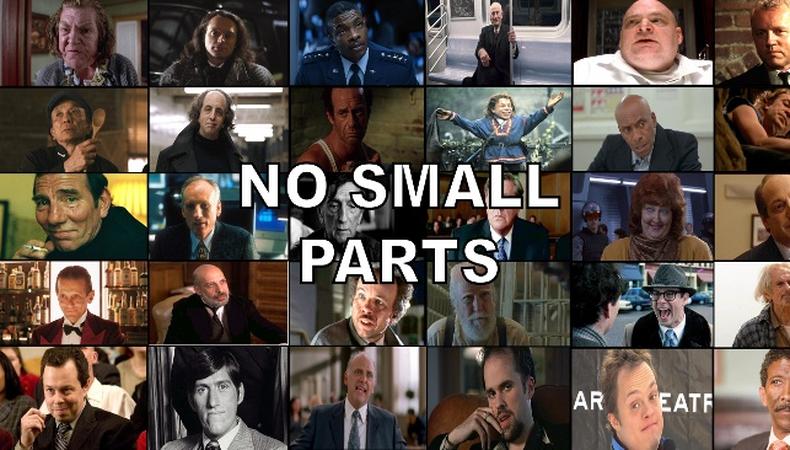 Brandon Hardesty is not new to the YouTube game. He started posting videos in 2006, re-enacting movie scenes or making funny faces and sounds. His videos were racking up hits—one video has over 8 million views—so he came out to Los Angeles to be an actor. Hardesty has 12 onscreen credits to his name, including "South Park" and "The Scorpion King 4: Quest for Power," but 2014 was a fallow period. "I've always heard you need a hobby, something to keep you sane while you wait for the phone to ring," he says.
That hobby became "No Small Parts," a Web series chronicling the lives and careers of character actors. He stays away from the big guys—your Steve Buscemis or Margo Martindales—instead choosing to focus on those who worked consistently but never got any leading role recognition. So far, he's completed episodes for Anne Ramsey (an Academy Award nominee for "Throw Momma From the Train," but perhaps better known to the kids as the insidious Mama Fratelli from "The Goonies"), Scatman Crothers (Dick Hallorann from "The Shining"), Vincent Schiavelli (the subway spirit from "Ghost"), and Warwick Davis ("Willow").
Hardesty prefers to focus on actors who have died. "They passed away and people talked about them for a week and that's it; it makes me sad. Vincent Schiavelli worked for three decades but there was no A&E 'Biography' on him," Hardesty says. And considering it takes him about two to three months and 100 hours of research to compile each episode—which run from 20–29 minutes—he has to be a fan of the person whose life he is chronicling. "I feel like these people are owed something. I was researching Vincent Schiavelli, and I loved him, but then I saw 'Once Upon a Time in Polizzi.' It was about how he moved to this small town called Polizzi Generosa because his grandfather talked about it all the time when he was a kid," Hardesty says. "That meant more to him than his acting career. He said he felt at home, he was happy, he fell in love with this woman. I watched this documentary and fell in love with him."
Hardesty starts with an actor's IMDb page and tries to watch everything on their CV, or at least their part of the production, essentially in chronological order. He edits using Final Cut Pro X, and his part-time job as an UberX driver has afforded him a new MacBook Pro. Every clip he uses is considered fair use because it is critical and educational material. To fund his operation, Hardesty relies on Patreon, where funders donate per episode. Next on his docket is Michael Jeter ("The Green Mile," "Fear and Loathing in Las Vegas").
It's all quite different from his earlier days on YouTube. "When I watch something online and it's obvious they put a lot of effort into it, I really respect it," says Hardesty. "My strategy with 'No Small Parts' was to put a lot of effort into something, and hopefully people will respond to it."
Like this story? See more of our Now Streaming articles here!