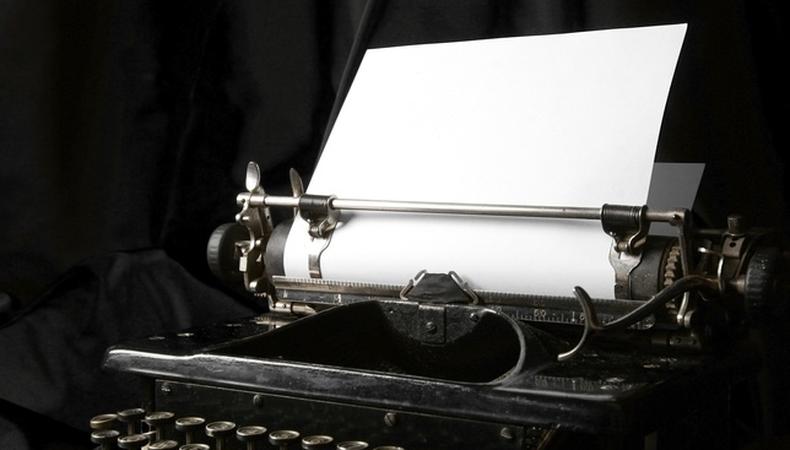 Do you have a script you're dying to get produced? There are more than just acting gigs in Backstage's casting listings; playwrights and screenwriters (and actors who write!) should keep their eyes peeled when browsing notices.
Stay abreast of writing submission opportunities by using the "Writers" filter under "Entertainment Jobs & Crew" on our casting page. Casting listings are regularly updated with information on writing contests, fellowships, and other exciting options for writers at all levels—including the four notices currently available below.
Don't have a play or film ready to go? Click here for advice on how to jumpstart a writing career!
THE GREAT GRIFFON, INC., NEW READING SERIES
Beginning in January 2017, David Beck and Natalia Bougadellis of The Great Griffon will be accepting submitted work—screenplays, plays, music compositions, performance art pieces, you name it—for a brand-new monthly reading series in New York City. Formed "as a response to the oppressive lack of substantial LGBTQ characters in mainstream entertainment," The Great Griffon is now opening its doors to writers, actors, directors, and other artists "to share their work and network in a safe yet swanky environment," according to the notice. If "safe yet swanky" matches your ideal gig, consider lending your talents to this up-and-coming company.
IMPRINT THEATRE
Multi-hyphenate artists in California, take note! "We strive to touch the hearts and minds of our viewers," states Ricky Abilez, the artistic director of Imprint Theatre Community, which focuses on "igniting thought provoking conversations." This growing theater community is seeking talent from Los Angeles, Orange County, and San Francisco, California. Check it out here and get involved now!
ATLANTA THEATRE-TO-GO
If you are looking to marry your talents with benefiting your community, Atlanta-Theatre-to-Go is offering a distinctly wonderful opportunity. Their mission, according to the company's artistic director David Rucker III, is to bring "live theatre to senior centers, retirement communities, assisted living facilities, community centers, churches and synagogues." Contributors will have the opportunity to have their work performed by professional actors in front of seniors, enriching their quality of life. What better way to give back while also honing your craft?
STRAWBERRY ONE-ACT THEATRE FESTIVAL
The Riant Theatre, based in midtown NYC's Theatre at St. Clement's, is once again holding their annual celebration of new stage work. The Strawberry One-Act Theatre Festival is now seeking talent through Backstage.com—and not just writing talent. Actors, stage managers, costume, set, lighting designers, and videographers are all invited to contribute their skills to the company's growing community of artists. Although the festival runs July 11–30, 2017, writers are encouraged to begin submitting now. Plays should be 15–30 minutes in length; awards with cash prizes will be given in August of next year, including a $4,000 prize and development deal for the best play.
Explore the rest of our new audition listings! And for more advice, check out Backstage's YouTube channel!