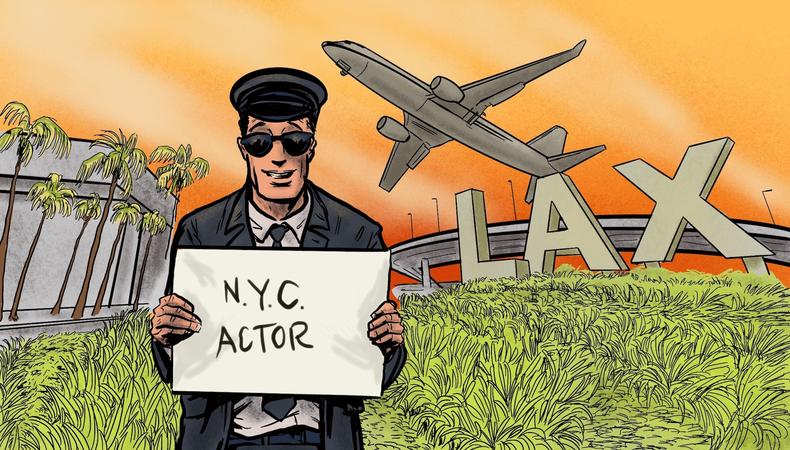 Few subjects are as hot-button in today's political climate as immigration policy. And while there's a time and place for that discussion, the sort of immigration that most concerns me as an agent is the move west from those out east. This is the time of year when a lot of New York City–area performers arrive in Los Angeles—and unlike our sitting president's incessant ranting, that's not fiction.
If you ask me, these New York immigrants are more than welcome. They seem to take their craft seriously, and I like how they've got some city grit on them. Here's the problem, though: Most of them come out too soon. They're just not prepared for the punch-in-the-face mentality that defines our industry.
So, here's some advice on the steps you should take before you buy that one-way ticket to Hollywood.
The production scene in New York is really happening. There are a lot of TV shows shooting there, including the approximately 10,000 that are produced by Dick Wolf. Try to book some work on them, even if it's just a few lines here and there. The idea is to have some credits on your résumé before you move out. And you don't need a fancy Manhattan rep to get those gigs. With the right hustle, you can find ways to get in with the casting directors.
READ: Should You Move to L.A. for Your Acting Career?
Now, let's say you can't. Here's another angle: Last I heard, some of the best theater work in this country can be found in NYC—and I'm not just talking about Broadway. There are a lot of smaller companies with stellar reputations. Become their friend. Volunteer your time, if you have to. (After all, actors love working for free…right?) The point is, you have a long-term goal: getting some decent New York theater credits on your résumé before you show up at my door.
I know what you're thinking: Getting those jobs, theatrical or onscreen, is easier said than done. Well, that's true, but you knew the odds going in, right? There are no rose gardens in this business, so stop whining and go roll around in some of that subway dirt. That should help focus your eye of the tiger. And don't forget about training! There are more respected acting schools in New York than there are hot dog vendors, so study with one of them for six months, then switch to another school. If you can't book work, you sure as hell can take a class. And some real New York training on your résumé is a plus for us industry types in L.A.
By the way, everything I've said also applies to actors based in Atlanta, Chicago, or any other city with a vibrant acting scene. Trust me. The basics are the same. You just have to want it. (If you don't, someone else does!)
So, there you go! Once you get this stuff checked off your to-do list, you have my permission to move west and start enjoying our delicious avocado toast. We even have hiking trails with views of the Hollywood sign. And if all goes well, there are thousands of actors here who are ready and willing to compete with you for every acting and service-type job in town.
Welcome to the party!