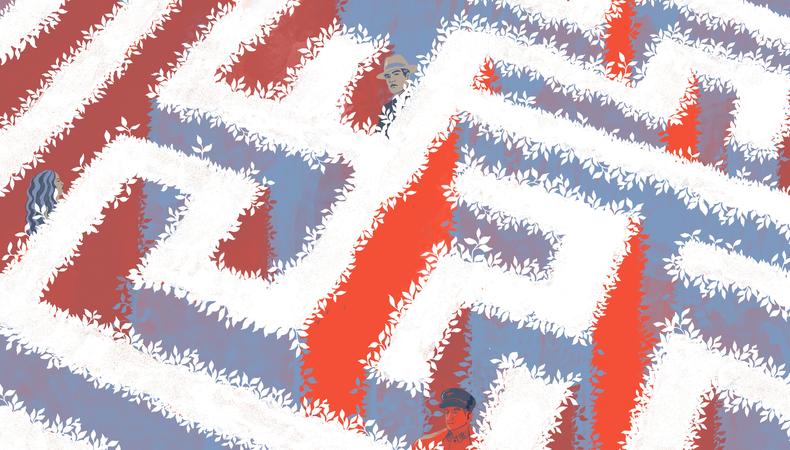 "Operation Finale" (in theaters Aug. 29) depicts the true story of a covert mission by Israel's Mossad to capture Adolf Eichmann in 1960, 15 years after the end of World War II and the Holocaust, which he had a significant part in engineering. Eichmann escaped capture and fled to Austria then Argentina after Germany's defeat. The real mission involved an international cast of characters and a journey that crossed the world and back. To replicate the story, CD Avy Kaufman was tasked with a worldwide search for actors who represented the nationalities involved in the real events. Through a casting process combining offers and auditions, she ended up with a cast that paired very recognizable names (Ben Kingsley, Oscar Isaac) with some new ones to tell the little-known story on the big screen.
What was the casting process like for "Operation Finale"?
For the roles that were offers, I put lists together and I researched who the characters really were. There are a bunch of films that I've worked on that are based on real people and I try to get as close to the bone as possible with the right energy, look, and sound. It's not a documentary, but it's a true story, so I want to pay respect to those who were a part of the story. I put lists together for some roles, I auditioned other roles.
When you're putting a list together for offers, what are the criteria?
I research them. There are real people all surrounding this whole story. That's what I would look up and do as much learning as possible to see what people look like, just every inch of them I try to swallow, then I would do my research of different actors around the world. I cast a lot of people that were not American to follow the story accurately.
How did that international cast come about?
I'd love to use more Germans, and I wasn't going to have a New Yorker have a German accent and be a German if we can cast a German. They were shooting all over the world— they shot in Europe and they shot in South America. Often, I must have local hires in a lot of projects that I do, and this was really refreshing because I didn't have to, so I could reach out to all those actors that I've had a lot of respect for over the years and see if they were available. People could come from all over.
What made this casting job unique from other ones that you've done?
This is just an extraordinary story. This is something that I hope everyone sees, and I feel incredibly lucky to work on it. Eichmann, he did a lot to hurt a lot of people, and to find him and to bring him back to Israel and the way that they did it was phenomenal.
What qualities in an actor stick out as memorable for you?
When actors come in and they are the character you're looking for, then you pay attention to that. It's their process of researching the character and bringing intel that they feel good and safe with. It's so much of a gut. Acting is really hard, so when good actors come in and they nail a role, even if they're not right for that role but they nail it, I clearly remember them. It's really hard to be a good actor; it's really hard to walk in and become that person.
READ: Toronto Int'l Film Festival 2018 to Premiere 'Outlaw King,' 'Jeremiah Terminator LeRoy'
How do you typically approach casting projects based in reality?
I go into each project with a clean slate, which boggles my brain because I keep thinking, Wait a minute, I think I've done this before. But no. I will tell you with this, I've done a bunch of European movies and I've researched a lot of actors from all over the world, and that was appealing for this movie. I could take some of the actors that I know in Germany and Sweden and Israel, and "Operation Finale" is full of that. When you see the film, you'll see faces that you may or may not know. But I also put Nick Kroll on the list because he resembled a character in the way this role was written.
What are some challenges that come into play when you're trying to portray people who actually existed?
There are always people that I love and I hope that the filmmakers want to cast that person. The only challenges I had were when I would lose actors that weren't available that I thought were perfect for certain roles and I'd have to find someone else.
Do you ever run into people not wanting to portray the bad guys of history?
Not on this film, but I have on other films. I did this film, "Gotti," about 20 years ago and some actors did not want to portray some of those people.
What can someone expect when auditioning for you?
For this movie, there were only a few that were in New York, so I did a lot of self-taping. In general, I know that it's not easy for a lot of people to come into a room and give their best shot then walk out, so hopefully we have a good space here that gives an element of warmth. I know if I'm going out for a job and I have to go for an interview, to walk into a space is not an easy thing. I hope we give actors warmth and understanding here, to let them feel like they are giving their best shot. It's all we can try and do on our end. I try to not have a big room of actors so they don't walk in and have it be uncomfortable.
If you had to give advice to actors from your point of view, what would you tell them?
To feel as comfortable as they can possibly feel with the character that they're bringing in and that the person that's walking into that room is best for everybody because I'm going to feel it and they're going to feel good when they leave. As much preparation as one can do always makes everyone feel good. When an actor walks in and he or she says, "I only had five minutes with these pages," sometimes I want to say come back, but I can't, maybe under the pressure of time, versus somebody that was able to spend as much time as they could, they walk in they feel good with it, they leave. You have to understand different situations with people, but I think preparation always makes an actor feel better.
Do you find that there are advantages to casting in New York?
It doesn't matter, it's just the budget of a film if we're fortunate enough to open up to actors wherever they are versus, as I said, so often I have to cast people out of New York. We're lucky that we have such good actors here, but it's more fun to be able to cast anybody from anywhere.
What don't actors know or realize about what you do as a CD?
Not the best person gets the job. It's not as simple as it feels. There are so many different elements that go into who gets that job. Over the years, I've had different readers in the office, and some of the readers from years ago are known actors now, and when some actors would come in and be a reader and they would see that, oh, I'm shocked, that person got that job, they might not have been the best, but they might have been the most appropriate for that role. It's beyond our reach, it's beyond our sight to understand every element of what goes into these decisions. If everybody can remember they're still good even though they didn't get that job. It's hard to do that, but it's important to. It makes me too sad to think that people walk out beating themselves out that has nothing to do with them half the time.
Check out Backstage's film audition listings!