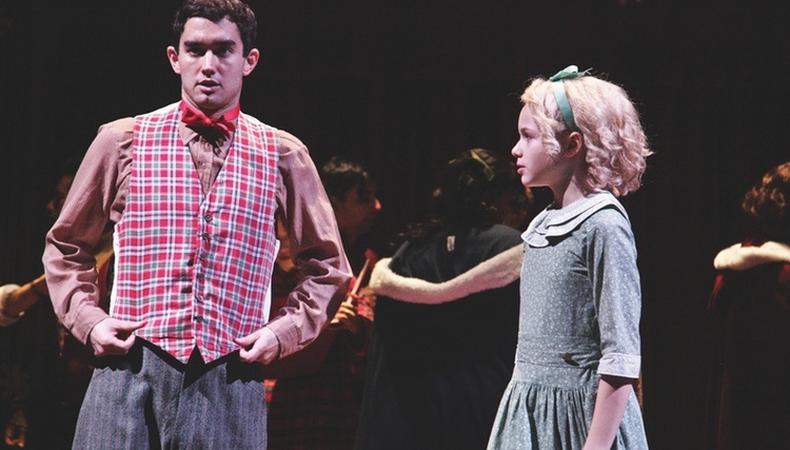 So many child actors performed on Broadway last season that the theaters looked like a Chuck E. Cheese's.
That's how Neil Patrick Harris put it in his opening number of the 67th annual Tony Awards. With performers from "A Christmas Story" and "Annie" flooding the stage—two of nine productions that featured kids—Harris sang, "So many child actors high on Red Bull and endorphins/ They barely come up to your knees, but God, they're singing like MVPs."
It was a moment that couldn't be replicated in Los Angeles, where stage opportunities for child actors remain limited.
"The labor laws are so restrictive here that it hurts theater," said Anne Henry, co-founder of BizParentz Foundation, a nonprofit advocacy group. "The shows that put kids on in professional roles here in L.A. have jumped through hoops all over the place to pull that off. They just avoid it if they can."
Casting a child actor requires a Los Angeles theater to employ what's called a studio teacher to work with the performer throughout the production. It's a costly expense, which prompts even the city's large venues to opt for adult performers who can play young.
The Geffen Playhouse's recent production of "Coney Island Christmas," featuring mostly schoolchildren as characters, included two 11-year-old performers. The rest of the cast, which totaled 20 performers, was over 18.
Phyllis Schuringa, the Geffen's casting director, said part of the challenge of casting child actors is scheduling. "It complicates rehearsal schedules," she said. For instance, children can only work eight hours a day and not past 10 p.m. on school nights, which during a performance may prevent them from making their curtain call.
In New York, a recent change in the state's child labor laws created a special distinction for live theater. It allows the producers of, say, "Matilda The Musical" to designate a "responsible person" to wrangle the child performers. But the producers don't have to provide teachers to performers who are homeschooled, to distance-educated students receiving appropriate instruction, or to children employed under a certificate of group eligibility, according to the regulations.
"Because New York has such a tradition with live theater being the cornerstone of its entertainment legacy and with theater being family-friendly in New York, productions employ children to provide some authenticity to their storytelling," said Kelly Crisp, founder of Child Performers Coalition, a New York–based advocacy group. "Annie is not going to be played by an 18-year-old."
If theater is a child actor's dream, New York–based casting director Jen Rudin said it makes sense to move to New York. "There's more opportunity here in New York for kids to get into Broadway shows just because the open calls are happening and it's more accessible here." But that move won't come cheap.
"No one is going to pay to relocate a child to New York to be in a Broadway show," said Rudin, who's the author of the forthcoming book "Confessions of a Casting Director." "Even though I found kids over the years in Atlanta, in D.C., and in Chicago, they still have to move on their own dime to New York if they want to be on the Broadway stage."
If that happens, parents should be aware that Broadway has a much more grueling schedule than television or film productions.
"You've got to really want to do it if you want to get your kids on Broadway," she said. "It has to be a family conversation. It can't just be the kid wanting to do it."