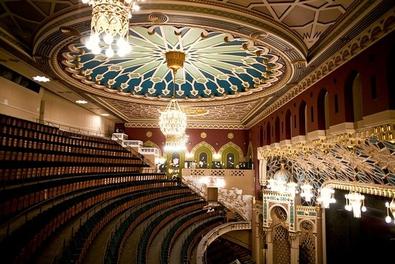 The New York City Center has been honored with six awards for design excellence and historical preservation, City Center announced on Thursday.
Last year City Center underwent renovation by Duncan Hazard of Ennead Architects to modernize and revitalize its historic interior. The building, which has played a significant role in the cultural life of the city for nearly seven decades, is now complete with a painted ceiling and murals in the Grand Tier lobby as well as an arabesque dome in the auditorium. The Ennead Architects firm has also been awarded for its work on Carnegie Hall, the Brooklyn Museum, The Standard New York, and Holland Performing Arts Center, among others.
City Center, located on West 55th Street between Sixth and Seventhavenues, has been honored with both national and statewide awards. It has received a 2012 American Architecture Award, one of the most prestigious awards for new design in the nation, and will be presented at a symposium in the Istanbul Biennial, a contemporary art exhibition. City Center has also been recognized for outstanding architecture by the New York State American Institute of Architects with a 2012 AIANYS Citation for Design.
Among awards for its historic preservation, the NYCC has been honored with the 2012 MASterworks Award for Best Restoration from Municipal Art Society of New York as well as the Lucy G. Moss Preservation Award, the New York Landmarks Conservancy's highest honor.
The City Center has also received 2012 Merit awards from the Society of American Registered Architects New York Council (SARNY) and from the United States Institute for Theater Technology for excellence in the design of theater projects.
Each year, City Center presents music, dance, and theater from America and around the world. It houses numerous companies including City Center's Principal Dance Company, Alvin Ailey American Dance Theater, American Ballet Theatre, New York City Opera, and Manhattan Theatre Club. City Center is also known for its Tony-honored musical theater series Encores!, which performs rarely heard works of composers and lyricists.