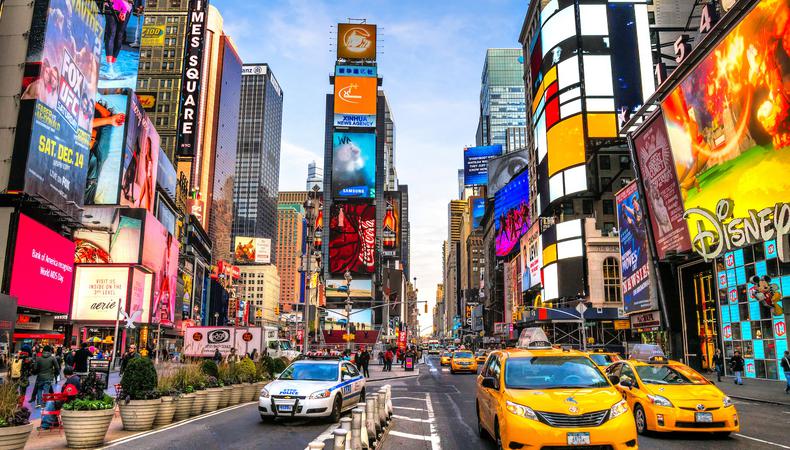 New York City Mayor Bill de Blasio announced that beginning on Aug. 16, the city will begin requiring customers to provide proof of their COVID-19 vaccinations to enter indoor performance venues, restaurants, and gyms in a tell-tale sign of how seriously NYC is treating the virus variant. Workers in those establishments will also need to be vaccinated. NYC is the first major U.S. city to implement the restriction.
The new mandate is called the Key to NYC Pass and will begin to roll out on Aug. 16, with full enforcement beginning Sept. 13.
"It's time for people to see vaccination as literally necessary to living a good and full and healthy life," said de Blasio in a press briefing. "The Key to NYC Pass will be a first-in-the-nation approach. It will require vaccination for workers and customers in indoor dining, in indoor fitness facilities, indoor entertainment facilities. This is going to be a requirement. The only way to patronize these establishments indoors will be if you're vaccinated, at least one dose. The same for folks in terms of work, they'll need at least one dose. This is crucial because we know that this will encourage a lot more vaccination."
The mandate applies to restaurants, gyms, and indoor entertainment venues, including live performances and movie theaters.
This announcement from de Blasio makes NYC the first city in the U.S. to mandate vaccinations for the general public. Previously, the city was trying to incentivize people to get vaccinated, with the most recent being $100.
De Blasio said that though the Key to NYC Pass will begin officially on Aug. 16, the city will take feedback from private businesses as it is implementing the mandate. On Sept. 13, the city will begin inspecting businesses to make sure they are following the mandate. De Blasio also said the city is looking at ways to help businesses implement the Key to NYC Pass, including financial assistance.
De Blasio also said that the mandate does not apply to children under the age of 12, who cannot be vaccinated, but he did not mention an exemption for adults who cannot be vaccinated, either because of health reasons or religious beliefs. "We're not going to exclude those under 12," he said. "We want them to be safe. We want them to be careful, but really what we're trying to do here is focus on the folks who could be vaccinated."
To prove vaccination status, people will need to show their paper vaccine card, a confirmation from the NYC COVID SAFE app, or a confirmation from the Excelsior app.
In NYC, 60% of residents currently have at least one dose of the vaccines, while 55% are fully vaccinated. Meanwhile, COVID-19 cases are continuing to increase, with 1,409 testing positive on average over the last seven days. The seven-day average for hospitalization has been slowly increasing, and is now at 47 per day. The seven-day average for deaths is currently four per day.
De Blasio compared the vaccine mandate to smoking and non-smoking sections in restaurants. He also said that the city will look into expanding the Key to NYC Pass to other types of businesses.
"Once upon a time, you know, smoking was typical in restaurants and bars. A lot of us—I happen to have asthma, a lot of other people had respiratory problems—really suffered because of that," he said. "Well, this is a much, much bigger problem. You know, a deadly disease that lurks in our city that has taken so many lives. To be able to go into a restaurant, a bar, a gym, a movie theater, and know the entire environment is folks who are vaccinated, which means much less chance of transmission. It also means even if God forbid someone contracted the disease, they are protected against the worst outcomes, that's really night and day. So that's what we're achieving with this mandate."
De Blasio's news comes as Actors' Equity Association has released new guidelines that require actors working on Broadway to be vaccinated, as well as audiences, and Netflix has announced that it will require vaccinations on its productions in the U.S.