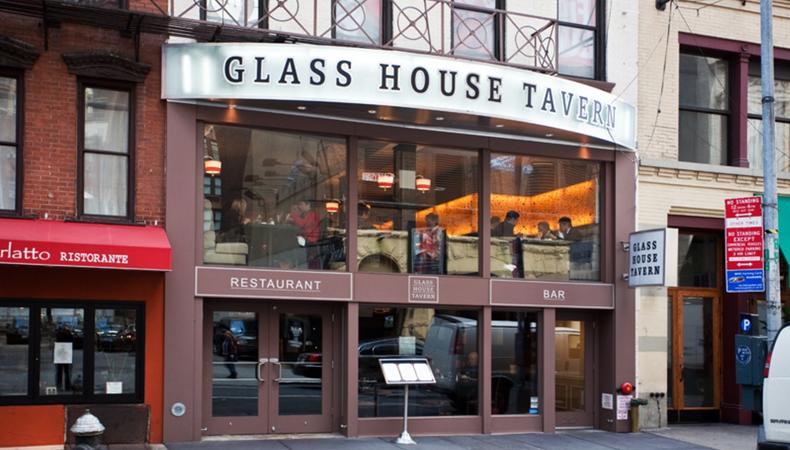 There really is nothing better than a rousing or transportive theatrical experience—except perhaps washing it down afterward with a beverage. New York's theater district is chock full of watering holes but with tourist traps galore and post-show crowding, it can be tough to decipher which are worth your while (and coins). Below is the inside scoop on where to head after a show to decompress and imbibe.
Glass House Tavern
Where: 47th St. between Broadway and 8th Ave.
The deal: Glass House is the quintessential post-show locale. Though an unfortunate stone's throw from Times Square, it somehow remains (for the most part) miraculously tourist-free and, similarly, reasonably priced. On performance evenings, the dimly-lit bar bustles with industry peeps from every facet of the biz. Rub shoulders with cast members from "Waitress," playing next door at the Atkinson, or the creative teams from whichever given shows are running at the Friedman or Barrymore theaters directly across the street. It's also open until 3 a.m. so you can keep the martinis and risotto balls flowing well into the morning.
The Rum House
Where: 47th St. between Broadway and 8th Ave.
The deal: Just a few doors down from Glass House is its upper-scale counterpart, The Rum House. Connected to the historic Hotel Edison, this is the swanky post-show throwback that will fulfill your "Mad Men"-era inspired dreams. The best part? Every evening there's a jazz pianist on hand playing live music that will keep your toes tapping while your hands are occupied cupping signature and classic cocktails.
Characters
Where: 54th St. between Broadway and 8th Ave.
The deal: As it's substantially further north than others on this list, your trip to Characters will most likely be dictated by the location of the show you're seeing prior. The Broadway Theatre, Studio 54, and cabaret spot Feinstein's/54 Below are all geographic precursors to the spacious bar and restaurant. Though it definitively has more of a sports-bar vibe, don't be fooled: thespians flock to this Irish-evocative spot on a nightly basis due mainly to its affordability, laid-back space, and the fact there's a digital jukebox through which you can subject the entire bar to your favorite cast recording.
Vynl
Where: 51st St. and 9th Ave.
The deal: While Vynl is definitely a solid option for pre-show nibbles and drinks, its real allure is in the window immediately following curtain calls when you can't take a step without bumping into an ensemble member from a currently-running musical. The entire spot is record-label themed, with adorably named cocktails to boot, and his and hers bathrooms decked out as respective shrines to Beyoncé and Elvis that must be seen to be believed.
Sardi's
Where: 44th St. between Broadway and 8th Ave.
The deal: Not exactly an innovative selection but must be included regardless because, yes, people really still do go to Sardi's! The iconic restaurant, whose walls are famously lined with caricature portraits of Broadway stalwarts, becomes a go-to boozing destination once the clock strikes 10 and evening performances begin letting out. It's classier fare, to be sure, and as such cocktails are on the slightly pricier side, but really, can you even put a price tag on having the ultimate New York experience (during which you may see frequent patron, Patti LuPone)?
Mickey Spillane's
Where: 49th St. and 8th Ave.
The deal: Pop over to Mickey's if you're feeling revved up after your theatrical experience because this is probably the least leisurely item on this list—but that doesn't strip it of merit. With its pulsing selection of top 100 tunes and attentive bar staff able to whip you up any imaginable cocktail in seconds, this is where you and your theatrical pals can get rowdy. It is also open until the standard Manhattan 4 a.m. so, again, rowdy.
Looking to get cast? Check out Backstage's NYC audition listings!