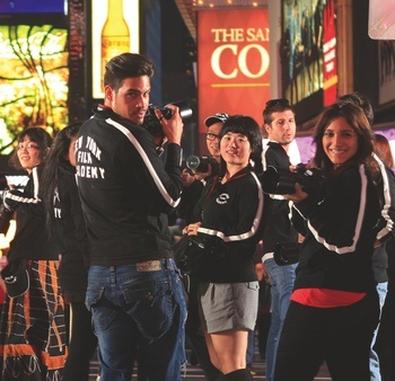 The New York Film Academy is opening a new set of doors to its student body. Come early September, the institute—known for its hands-on approach to acting and film—will launch its first full-year program at its second New York City location in Battery Park, which it added this summer in addition to its existing campus in Union Square. Occupying two floors and more than 72,000 square feet, the facility will offer students classes in acting for film, musical theater, screenwriting, producing, and other subjects.
NYFA, open to everyone from the novice to the seasoned actor, provides a singular approach to the acting craft.
"We were a filmmaking school first, started in 1992," said NYFA senior director David Klein. "Acting for film was not really being taught widely as a separate entity in education, and when we came up with what we wanted, it felt so right because we had all the resources to do it."
Actors have access to the traditional teachings of acting technique and to an entire film school, its equipment, and all of its up-and-coming creative types. In the classroom they have the opportunity to delve into the worlds of the non-acting craftspeople whom they will encounter on sets as actors.
"Normally these institutions have all these different departments and no connection, so we wanted to make sure there was that here," said Klein. "Producers have access to the filmmakers and vice versa. The screenwriters do collaborations that we facilitate with the producers and the filmmakers, and you get this community of artists working together to create stuff."
In a time when making your own work as an actor is imperative to success, learning what goes into working on the other side of the camera can prove invaluable to a performer's career. Actors can take producing, directing, and writing classes geared specifically to them while learning about acting on mark, shot size, and how to work with the camera. One class teaches students to adapt stage performances to screen, giving actors an understanding of how to apply their skills regardless of the medium.
"You take a base acting education and then layer on all the technicals for camera," said acting department chair Glynis Rigsby. "[Our program] is film immersion until it starts being part of your body as an actor. Acting is a physical discipline; it's a discipline of the body and the voice, so you have to practice them."
Practicing at NYFA can include using monitors to watch one's own performances in real time, learning to shoot Web series, or working on projects with other students at one of NYFA's campuses in Los Angeles or Abu Dhabi.
"Anyone who thinks a profession is created in eight months doesn't understand a profession," said Rigsby. "No training program creates a professional, but you train people with this idea that they'll go on, and now they understand the questions they should be asking from their coaches and teachers. They understand the questions they should be asking themselves."