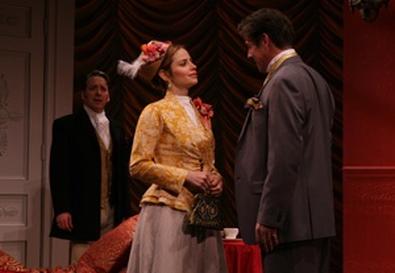 I didn't get a chance to read Langdon Mitchell's 1906 divorce comedy "The New York Idea" before seeing David Auburn's entertaining adaptation in Atlantic Theater Company's elegant production at the Lucille Lortel Theatre. In retrospect, that was probably a good thing. I left the theater marveling at how "surprisingly contemporary"—as a press release claims—Mitchell's attitudes toward marriage, divorce, and sex were. Except they weren't, not really. As smart as Auburn's work is—tighter, better structured, more-rounded characters—he significantly alters Mitchell's more censorious moral intentions and one-foot-always-on-the-floor sexual delicacy while injecting much of the play's "contemporary" sensibility himself. I'm not sure to what end, as even this modernized adaptation is unlikely to cross over to commercial audiences. Still, those with a taste for period comedy should thoroughly enjoy themselves.

Auburn retains Mitchell's basic plot, in which gay divorcée Cynthia Karslake is set to marry older divorced judge Philip Philimore, in an attempt to finally settle down. Complicating matters are Cynthia's ex, John, who is still madly in love with her, and Philip's ex, Vida, a scandalously "modern" woman who just loves stirring up trouble. Described by her prospective mother-in-law rather dubiously as "sporty," Cynthia loves horses and the racetrack, a pastime she used to pursue with the free-spirited John. Reduced to bankruptcy thanks to gambling debts, John is busy selling everything he owns, including Cynthia K, his ex-wife's favorite horse. When Cynthia discovers that Vida has bought the nag (a twist of Auburn's), she is determined to get her back, leading of course to significant complications. Also in the mix is wealthy Englishman Sir Wilfred Cates-Darby, who sets his cap for Cynthia despite her impending nuptials.

Under Mark Brokaw's fleet and shiny direction, the 12-person cast delivers top-flight performances. Jaime Ray Newman makes an impressive New York debut as Cynthia, radiant and headstrong, all eager urges that she struggles valiantly to repress. Jeremy Shamos is a shambling, likable John, touching in his bewilderment at his abandonment. As Vida, Francesca Faridany dominates the proceedings whenever she's on stage, as the character should, though the exemplary Faridany can't entirely disguise the fact that this re-envisioned Vida seems to belong more to the 1920s than the aughts. Michael Countryman concentrates on Philip's quiet love of Cynthia (another element added by Auburn), then rises forcefully to the occasion when Philip insists that despite Cynthia's shocking behavior, he still wants to marry her. Rick Holmes is a charmingly slick Sir Wilfred, with the actor gaining great comic mileage out of the character's undisguised delight at the scandalous behavior of these Americans. Standing out in smaller roles are John Keating as a cheeky cockney groom, Patricia Conolly as Philip's disapproving maiden aunt, and Mikaela Feely-Lehmann as Vida's open-minded, very French maid, Auburn's one new character.

Allen Moyer's simple yet rich set, wisely limited to the stage mechanics of 1906, is structured around a central periaktoid that allows easy changes for each of the three locations and is effectively framed by Austrian show and back curtains. Mary Louise Geiger's warm lighting suffuses those curtains in a different color for each place, from gold to red to green, and Michael Krass' detailed period costumes work beautifully in concert with it all (I was particularly taken with Cynthia's daringly open-shouldered red wedding dress).

"The New York Idea" is not a neglected masterpiece, and there's no doubt that Auburn's adaptation is a much sturdier piece of work than Mitchell's original. Still, the play's most salient feature is what it reveals about the mores of its day. I can't help wishing that Auburn had found a way to work his ministrations without muddying that picture.



Presented by Atlantic Theater Company at the Lucille Lortel Theatre, 121 Christopher St., NYC. Jan. 26–Feb. 26. Tue.–Fri., 8 p.m.; Sat., 2 and 8 p.m.; Sun., 3 p.m. (Additional performances Sun., Jan. 30, 7 p.m.; Wed., Feb. 2, 2 p.m.; Tue., Feb. 8, 1 p.m.) (212) 279-4200 or www.ticketcentral.com. Casting by Telsey + Company.