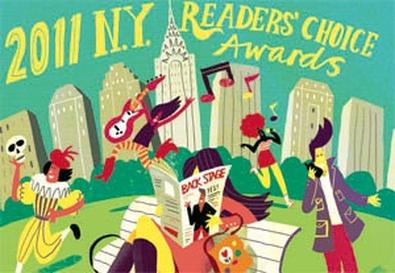 Dear Readers,
Don't be confused by this week's Back Stage. If it looks a little different, that's because we're announcing the winners of our annual Readers' Choice Awards. Since 2006, we've asked our readers for their top choices among headshot photographers, acting teachers and coaches, reproduction houses, etc. Before 2010, we printed the results for New York and Los Angeles in separate issues. But last year we decided to combine your choices for the two acting capitals in one issue. It was such a hit, we've done it again. You're looking at the New York section now; for Los Angeles, just flip it over and turn it upside down.
For New York, there are both new winners and repeat victors from previous years. Among the latter is Ripley-Grier Studios, which has won the award for favorite rehearsal studio every time the category has been offered. "It has helped validate the philosophy that we use to design our studio and create a comfortable, nurturing space for clients to come to, especially actors who may be a little bit jittery about auditioning," says Patricia Ripley, co-owner of the studios with Butch Grier. "Every time the Readers' Choice Awards are coming up, we let our clients know about it and we get a great response."
Thanks to the entire Back Stage staff on both coasts, who worked so hard in putting this issue together; to all of you who made your voices heard by voting for your favorites; and to all the winners and runners-up, who help our readers achieve their career goals.
David Sheward, Executive Editor, New York
---
Favorite On-Camera Teacher: Rosalyn Coleman Williams
Rosalyn Coleman Williams learned a great deal from the people who taught her and wanted to pass that knowledge along, but also because she was dissatisfied with many of the training programs available to young actors.
Favorite Commercial Teacher: Brooke Thomas and Mary Egan Callahan
Ten years ago casting directors Brooke Thomas and Mary Egan Callahan realized they were soul mates—at least when it came to commercial acting.
Favorite Rehearsal Studio: Ripley-Grier Studios
A family-operated business, run by Patricia Ripley and Butch Grier, the studios were designed utilizing feng shui principles, resulting in an open-feeling space with generous use of plants, light, and color.
Favorite Headshot Photographer (Session Under $400): Rod Goodman
"My take on a good headshot is really simple: It should look like the person," says Rod Goodman.
Favorite Headshot Photographer (Session Over $400): Douglas Gorenstein
Gorenstein has photographed actors such as Josh Sussman, Mindy Kaling, Michael J. Burg, Alana De La Garza, Seth Gabel, Jason Tam, Troy Metcalf, Jeff McCarthy, Tina Maddigan, and Natalie Cortez.
Favorite Comedy Teacher: Peter Michael Marino
For two years, Peter Michael Marino has taught Levels 1 and 2 of his Flying Solo course - helping actors, comedians, and others create their own one-person shows - at the Peoples Improv Theater.
Favorite Dialect Coach: Kohli Calhoun
Over the course of her career, she has worked on film, television, and theater projects. She currently teaches voice, speech, and dialects at NYU and serves as a dialect coach at the Stella Adler Studio of Acting.
Favorite Improv Class: Upright Citizens Brigade Training Center
Performers and writers from "Saturday Night Live," "The Daily Show," "The Late Show With David Letterman," and "The Colbert Report" often contribute to the theater and its training center.
Favorite Audition Technique Teacher and Favorite Cold-Reading Teacher: Deb Jackel
She teaches audition technique primarily at the William Esper Studio, but she also coaches privately. At Esper, Jackel teaches an eight-week course for the students who are graduating in the Meisner technique.
Favorite Scene Study Teacher and Favorite Acting Coach: Larry Singer
Singer is committed to the idea that each actor has individual needs and there is no one-size-fits-all method.
Favorite Acting Class for Kids: ACTeen
Since 1978, the school has been providing theatrical and on-camera training for teens and young adults, ages 13–20.
Favorite Dance Studio: Broadway Dance Center
Welcoming 3,000 students each week, Broadway Dance Center offers classes in all disciplines and for all skill sets in five studios, with class size ranging from 20 to 70.
Favorite Litho/Reproduction House: Reproductions
Hat trick! 2011 marks the third straight year that Reproductions has nabbed the title of Back Stage readers' favorite litho/reproduction house.
Favorite Vocal Coach: Nancy Mayans
Mayans has been teaching, directing, and performing for more than 25 years. She has served as acting and speech coach for HBO, MTV, and two PBS children's series.
Favorite Stage Performance in the Past 12 Months: Mark Rylance, 'La Bete' and 'Jerusalem,' Broadway
Rylance took the stage in two tour de force roles this past season. Both performances received more votes from our readers than any other, so we're awarding Rylance a double honor.
Written by Suzy Evans, Sri Gordon, Daniel Holloway, Simi Horwitz, Jesse Landberg, Frank Nestor, Gerard Raymond, David Sheward, Diane Snyder