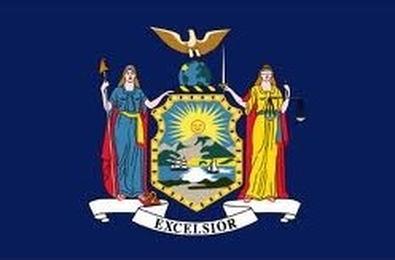 New York's entertainment industry is on track for a "record-breaking year," according to Gov. Andrew Cuomo.
Cuomo's announcement may help sway actors who are considering a West Coast move in order to break into television. Why come to Hollywood when that kind of production is flourishing in New York?
There have already been 19 pilots shot in New York this season, of which five went straight to series, according to state government figures. Another two have committed to filming in the Empire State.
If those projects come to fruition, it would break the record for the number of television pilots filming in New York in a year. The current record, set in the fall and spring of 2010–11, is 20 pilots.
"We have the resources, the talented workforce and the venues to offer the industry unmatched opportunities," Cuomo said in a statement. "Our newly expanded and enhanced film and television program will only continue to spur tourism, attract more investments to New York and create more jobs for New Yorkers."
The Empire State offers some of the richest tax incentives in the country and recently celebrated luring "The Tonight Show" back to New York City from its home in Burbank, Calif. In a release Monday, Cuomo's office pointed to the NBC talk show's relocation and others as a sign the state's entertainment sector is on the rise.
In addition to NBC's "Tonight Show" moving to Rockefeller Center next February, NBC's "America's Got Talent" is relocating from New Jersey to the Radio City Music Hall in Manhattan. That move alone is estimated to create more than 500 jobs and result in more than $100 million in economic activity each season.
Television executives from NBC, CBS, and HBO joined in praising the state's $420 million-per year tax incentive program.
"New York has traditionally provided a fascinating array of backdrops against which to shoot our varied television shows, whether it's the gritty streets of 'Law & Order' or the beautiful theatre district for 'Smash' or our own Rockefeller Center for '30 Rock,' " said Bob Greenblatt, Chairman, NBC Entertainment. "The state's tax incentive program has made producing these shows and others—including 'America's Got Talent' and the upcoming 'The Tonight Show with Jimmy Fallon' and 'The Michael J. Fox Show'—even more feasible as a beacon for attracting top talent in front of and behind the camera who prefer to work in New York."
CBS C.E.O. Leslie Moonves said without the tax incentives, series including "Blue Bloods," "The Good Wife," and "Elementary" would not be shot in New York. "In addition, we can continue investing in new programming, including two pilots currently being filmed in New York, with more possibilities in the works," he said in a statement.
Home Box Office C.E.O. Richard Plepler and Anne Sweeney, co-chairman, Disney Media Networks & President, Disney-ABC Television Group, echoed Greenblatt and Moonves.
Tony Argento of Broadway Stages said the growth of the industry had "a domino effect."
"The mom and pop hardware stores, the corner coffee shop—the whole community flourishes, not just the film industry," Argento stated.