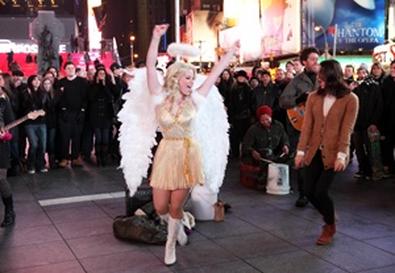 Film and television production in New York City has grown significantly over the last decade and is currently the largest in the city's history. The industry generated $7.1 billion in revenue for the city in 2011, employing 130,000 people.

Casting director James Calleri, who casts for theater, film, and television in New York, told Back Stage that the increase in onscreen opportunities also has far-reaching benefits for the theater community.

"If more actors are working in television or film, they're going to be more apt and able to afford working in the theater," he said, acknowledging that a life in the theater is not nearly as lucrative as film work. "The fact that there's enough jobs coming in that they can pay their bills by working on a TV show or doing a guest spot and then go do a play—that's really helpful for all of us."

Calleri, who is also the New York treasurer for the Casting Society of America, said that when he moved to the city to cast theater, he never expected to work in film or television. But he also noted that good acting is not defined by the medium; a CD who casts New York stage productions has an advantage in the transition to TV, because most of the actors who end up starring in New York–based TV shows began their careers onstage. So with more work to go around, he's been able to parlay his success from the stage to the screen as well.

Calleri also said that even though his staff has remained basically the same size over the past decade, many of his past interns at Calleri Casting have gone on to secure full-time jobs at other casting offices in the city. "I attribute that to there being more work out there for people and more people hiring," he said.

Read more BackStage.com coverage of New York's film and television production boom:

New York City's Film and TV Production Hits Record Highs
The film and TV production industry spent more than $7 billion in NYC in 2011 and employs 130,000 New Yorkers, according to a new economic study.

NYC Launches New 'Reel Jobs' PSA Campaign for Film and TV Production
Promoting New Yorkers who work behind the scenes on film and TV productions, videos will be shown in local theaters and taxis, on TV, and online.

L.A. Productions Eye NYC as Competition Heats Up
Kaufman Astoria's potential outdoor studio is the latest reason more productions could flock to NYC.

Steiner Studios Opens Five New Soundstages in New York
NYC Mayor Michael Bloomberg announced that the studio is expanding to meet record film and TV production demand in the city.