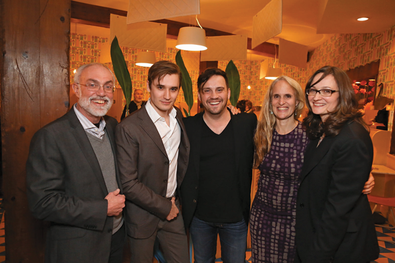 New York's Rattlestick Playwrights Theater is readying its first Los Angeles production, and if the "experiment" pays off, it could lead to a permanent West Coast home.
Rattlestick, famous for the onstage bathroom at its Greenwich Village home, has built a reputation by supporting new playwrights and mounting edgy, Off-Broadway productions. After 17 seasons in New York, it's eyeing an expansion that would allow it to mine the acting and writing talent in Los Angeles.
"We can access actors out here in ways that we cannot in New York, especially as pilot season lengthens into this sort of nonstop circus," David Van Asselt, Rattlestick's artistic director, told Backstage at a kickoff event at the Beachwood Cafe Feb. 12.
Rattlestick has been successful in attracting marquee acting and writing talent to its stage; "The Revisionist," a new play by Jesse Eisenberg that stars Eisenberg and Vanessa Redgrave, recently opened in Manhattan. Van Asselt hopes to replicate that formula in L.A.
"I need to keep my writers [working] with really good actors, and I want to make sure actors get involved with young writers. It works both ways," he said. "There's so much really good work going on in television right now, and because there's good links between playwrights and television, I feel like it's my duty to help [strengthen] that link. Ditto with actors."
Rattlestick's first West Coast production, Daniel Talbott's "Slipping," starring Seth Numrich, will premiere in April at the Lillian Theatre. If that production is a success, Rattlestick will look at getting a permanent home. One option being considered is partnering with the Black Dahlia Theatre, which is renovating the Circle Theatre, a complex that houses a 45-seat and an 88-seat theater.
Craig Wright, a playwright and an Emmy-nominated TV writer, said Rattlestick's presence on the West Coast will make it convenient for actors who may not have a reason to relocate to New York to pair up with the theater's stable of writers.
"My hope would be that Rattlestick West could be a place where actors of all levels might find a new opportunity to do work by great young playwrights," he told Backstage.
But Van Asselt was cautious about looking past the April production.
"It's an experiment," he said. "I would like it to be a move—don't get me wrong—but we have to sort of figure this place out and see what's possible and what's not.
"Let's see what happens."