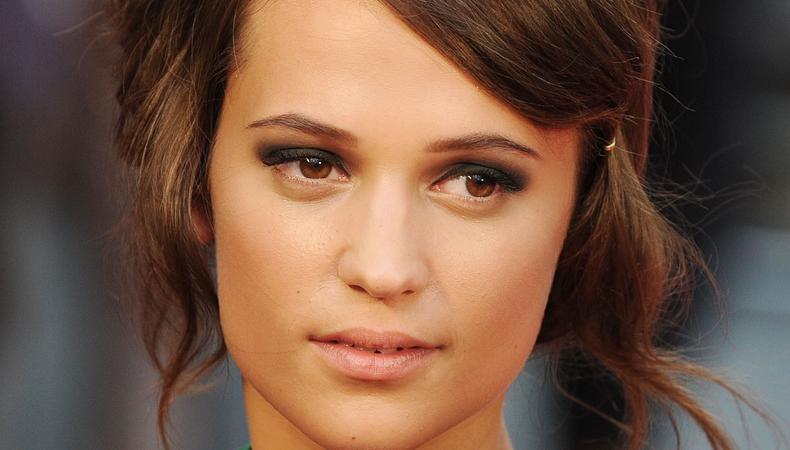 Alicia Vikander looks right at home in corsets. The Swedish actor is appearing in two period films this month, playing women ahead of their time. Opening this week in limited release is "A Royal Affair," in which Vikander stars as Caroline Mathilde, a young British girl who married the mentally ill King Christian VII of Demark (Mikkel Følsgaard in a stunning film debut), only to have an affair with his court physician (Mads Mikkelsen). Later this month, she will also be seen in director Joe Wright's adaptation of "Anna Karenina," as Kitty, a young princess torn between two suitors.
"A Royal Affair" recounts a famous real-life love triangle. How familiar were you with the story?
Alicia Vikander: Well, I'm Swedish, so I did what ever dame does, they read about this in school. It's like the most known historical event in time. And one of my top novels of all time that I read is called the "The Royal Physician's Visit" by a Swedish author and the book is based on this event. So when I actually was sent the sides, I saw Caroline and I knew exactly what the story was so I got so thrilled because I realized it was one of my favorite books.
What was the most challenging part of the role?
Vikander: Well, I had to learn Danish. So I spent two months in Copenhagen only working on my language. I think they had tried every girl between 20 and 30 in Denmark. So after a couple of months they branched out to Norway and Sweden.
You didn't speak Danish before this film? How did you audition?
Vikander: I had a friend who recorded the lines on her iPhone and sent them to me. So I sat like a parrot trying to do my best. Nikolai is a good friend of mine now and he still makes fun of me for that audition. He says he had no idea what I was saying. But that he didn't care about the words, he saw what I was trying to do.
You went straight from "A Royal Affair" to "Anna Karenina." How did that role come about?
Vikander: Joe Wright had seen a film I'd done called "Pure" and we had lunch and we talked about the book. Then I went to London and met the producers and read for them. It happened quite fast.
What was it like going from one costume drama to another?
Vikander: I actually don't think people are that different nowadays, you know, in how they react and behave. People are people. It's more of the world around them that changes. I can say I got more used to wearing a corset; I didn't faint when I did "Anna Karenina," as I did when I shot "A Royal Affair."
You fainted?
Vikadner: Yeah. I have never fainted in my life and Mikkel was next to me and saved me as I was about to fall over. Because you can't breathe in those costumes. It's like your lungs can do so much.
Is there any part of you that worries you might get type cast into costume dramas?
Vikander: I mean, I don't have to worry. If someone brings out a fantastic script and story and character, then I will think of that more than the fact that it's a period piece. If it's an interesting story or great filmmakers or great actors to work with, that's all I'm going to concentrate on.