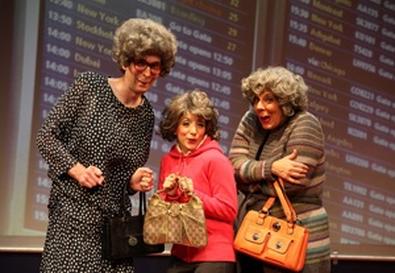 Smart lyrics. Big wigs. Christine Pedi doing her flawless Liza. Christina Bianco doing a dead-on Kristin Chenoweth. Two other gifted actors. OMG, "Forbidden Broadway" is back in town!

Not quite. Rick Crom, the writer-creator of "Newsical the Musical," the latest edition of which has just opened, isn't quite up to the zany standards of Gerard Alessandrini, the man behind "FB." But let's salute Crom anyway, for three good reasons:

1) He's keeping the topical revue alive. It's a venerable but sturdy art form, stretching back more than a century--Harrigan and Hart, and even the Ziegfeld Follies, spoofed current events and celebrities. But satirical songs and skits are an endangered species, though God knows there's plenty out there to mock and we could all use a laugh. The closest approximation we have besides Crom is "Saturday Night Live," and to get to the gold on that TV series, you have to endure dreadful musical acts, a high ratio of clunkers, and guest hosts like Jim Carrey.

2) He writes in old-fashioned, tuneful song forms. There's no melodic genius here, but Crom believes in AABA, real rhyme, and punch lines in the proper places. Formwise, there's nothing in this "Newsical" that couldn't have been written before 1970, and at times that's a liability. A funny song about Oprah (Pedi, in more hilarious artificial hair by J. Jared Janas and Rob Greene and with a near-perfect Chicago accent) is strikingly similar to Mary Hopkin's 1968 hit "Those Were the Days." A pointed nose-thumbing at homophobia among Marines in the wake of "Don't ask, don't tell" repeal is almost too articulate. Rapping would have been a more inventive and appropriate format choice. But with virtually no traditionalist new scores on Broadway, let's take music and lyrics that don't assault the ear where we can find them. (Though the uncredited sound design could be taken down a notch or two.)

3) He's giving Pedi a job. The "Forbidden Broadway" veteran is an unparalleled mimic whose devoted fan base (count me in) has missed her, and she's in fine form here. Actually, she seemed to be holding back vocally at the performance attended--perhaps she's recovering from the flu. But her addled, hyperactive Minnelli is a masterpiece, and her Angela Lansbury, Julie Andrews, Elaine Stritch, Barbra Streisand, and especially Joan Rivers--all bantering with Michael West's masterful Larry King--aren't far behind.

Bianco may prove to be her equal. Also a "Forbidden Broadway" alum, she's a ball of fire, and her vapid, melisma-loving Celine Dion is as uncanny as her Chenoweth; she also gets to be a grace-challenged Bristol Palin and a relatively restrained Lady Gaga. Michael West, besides playing King, is a pretty good Dubya, though I'd rather Crom had just written the ex-president a skit and not tried to shape his fractured English into a conventional song. John Walton West, besides being hot, is an excellent Morgan Freeman. The foursome seem to like each other, and they seize each other's rhythms beautifully.

Though ostensibly a send-up of the headlines (an Arizona immigration skit was sensibly removed at the last minute), the show seems more preoccupied with celebrities, and its skewering of political figures is hit-or-miss. A roasting of Sarah Palin and the new GOP House of Representatives doesn't quite land, being funny about Obama proves almost impossible, and portrayals of Hillary Clinton as a power-hungry bitch have passed their sell-by date. Crom also mocks Mel Gibson, Tori Spelling, and Andy Rooney--all yesterday's news. Maybe he needs a pop-culture consultant? But a BP riposte is dandy, and riffs on texting, infomercials, and brakeless Toyotas are good fun. This "Newsical" could be more consistent, but the cast goes a long way toward redeeming its deficiencies. And any town with an often funny topical revue in it is a happier place.

Presented by Tom D'Angora and Elyse Pasquale at the Kirk Theatre, 410 W. 42nd St., NYC. Opened Jan. 9 for an open run. Mon.–Wed., Fri., and Sat., 8:15 p.m.; Sun., 7:30 p.m.; Wed. and Sat., 3 p.m. (212) 279-4200, (800) 432-7250, or www.telecharge.com.