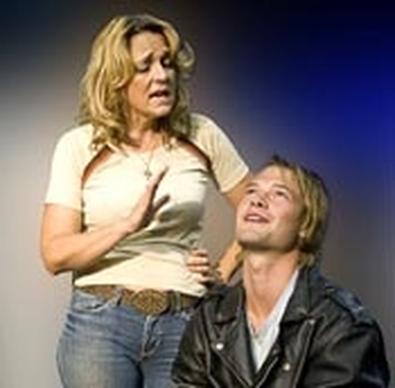 Chicago-bred freelance entertainment journalist Jeff Favre, a Los Angeles resident since 1999, is viewing the theatre scene from a new perspective these days, as his first full-length play, The Next Big Thing, premieres July 19 at the Art/Works Theatre in Hollywood. To be accurate, it's a musical, not a play, but Favre emphasizes that he made an effort to provide a substantial book for his long-germinating project. The drama came before the music.
Among Favre's ongoing freelance gigs are his theatre reviews and occasional features for Back Stage. Though reporting on the L.A. theatre scene is his livelihood, over the years Favre has retained links with hands-on theatre participation. He says, "I have [written and performed in] one-person shows since 1995, when I started doing them in Chicago. I have done them here and also a couple in New York. I love doing them. All have been benefit stuff, and the shows have raised a lot of money. I've also directed a couple of solo shows, and I wrote a one-act play that ran last year downtown at the TheatrExpresso."
The Next Big Thing, Favre's most ambitious theatre endeavor to date, is billed as a "garage band musical." He conceived the show, wrote the libretto, and is producing. He explains how this labor of love came about: "A long time ago, someone pointed out to me that the 1980s musical was a genre that hadn't been tapped, though there have been a few such efforts since then. I love early-'80s pop music, so I decided to try my hand at an '80s musical. I don't write music. Around 2000, I started toying with my ideas for a musical, but I didn't proceed to write it until I found someone who I felt could write the music properly. Starting in 2004, I wrote the book, and then I told the composer-lyricist duo, 'These are the songs I need.' I gave them detailed descriptions of what I needed, and then they wrote them up." The music and lyrics are by Missy Gibson and Mike Flanagan, members of the popular indie band Breech.
The story, set in 1983, is about aspiring musician Chip (Brandon Ruckdashel) and his garage band, who are looking for the new sound that will take them to the next level. Opposing the band's approach is Chip's mom, Melissa (Gibson), a singer-songwriter from the 1960s with a checkered past and a belief that good music is more than a simple hook. Says Favre, "The core of the show is the relationship between mother and son. I didn't want to make a clichĂŠd show about an 18-year-old, but I did want to tap into that feeling most of us had in high school where we think we know better, but we don't really know better. That's what I want to get across. And the other big theme is what makes art great, what makes it last. That's the big battle. Is it more important to make something popular now or something that can maintain its popularity?"
According to Favre, the style of music encompasses 1980s sounds plus other rock motifs: "Some songs are played live by the [characters in the] band in an '80s style. The rest are recorded by an orchestra and reflect the style of our composer-lyricist team. I specifically chose people who had never written a musical. I didn't want standard show tunes." Favre also notes that although the show is a traditional book musical in a certain sense, the '80s performance segments are not included to advance the story. They serve the function of entertainment and to establish the mood and define the period. Favre hopes the strength of the narrative will prevail. He adds, "The biggest difference between some other rock musicals and ours is that ours really stems from the book, whereas most of those others stem from the songs. I insisted the book be good, because having reviewed a lot of musicals, I know what so often falls apart is the book. The book for this is at least half of the running time."
Favre has worked tirelessly to bring his dream to fruition, between keeping up with his day job — or night job, one might say — reviewing local theatre. He says the show, presented under Equity's 99-Seat Plan, is primarily self-produced, though he's very grateful for a few financial backers who have helped. As for the gargantuan task of pulling a production together, he has relied a great deal on his co-director, Rachel Maize, and the expertise and assistance of Racquel Lehrman, who runs and owns the publicity-producing company Theatre Planners. He says of Lehrman, "I simply couldn't have done this without her." Favre says actor-musician Gibson, who plays the lead role, was precast and that this character was inspired by her. Several actors (Matisha Baldwin, Heather Belling, Curt Bonnem, Jason Director, Lisa May, Michael Thompson, and Ellen D. Williams) were cast during open auditions. A requirement for this show was actors who also could play musical instruments. Favre says casting was a challenge, but he is very pleased with the performers who got the roles.
Is Favre eager to do another musical soon? He responds with a huge laugh: "No! Are you kidding? This show is killing me!" But he feels the effort has been well worth it. "It is coming together," he says. "I know the final two weeks will be insane. Yet I think most of all, people will enjoy it. It really moves. I'm so impressed with the score written by Missy and Mike. This show is something I have wanted to do for a very long time." Until Favre's next big thing, you'll find him savoring the one at hand.
The Next Big Thing will be presented July 19-Aug. 16 by JATH.com Productions at the Art/Works Theatre, 6569 Santa Monica Blvd., L.A. (323) 960-4418. www.thenextbigthingmusical.com.