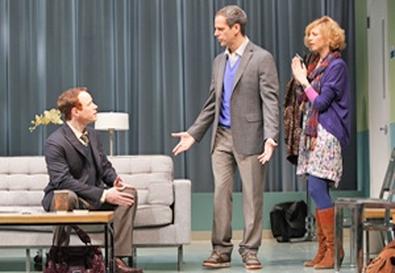 When Geoffrey Nauffts' "Next Fall" was playing Off-Broadway last summer, it felt as if the audience was in the hospital waiting room with the family and friends of Luke, the young gay man put in a coma by an automobile accident. We were right there sitting next to Adam, Luke's partner, as he awkwardly met and then confronted Luke's evangelical parents, who were unaware of their son's sexual orientation and even Adam's identity. During flashback scenes, it felt as if we were eavesdropping on Luke and Adam's arguments over the former's religious convictions and the latter's lack of them.
In its move to Broadway's Helen Hayes Theatre—even though this is one of the Main Stem's smallest houses—director Sheryl Kaller's tender staging has lost most of its intimacy. Fortunately, "Next Fall" retains its power to move. Nauffts, artistic director of Naked Angels, the company that produced the Off-Broadway run, is an actor himself, and he knows how to create roles of depth and complexity. No one is a villain or a hero here, as each character brings his or her own backstory and set of values to the conflict. Nauffts makes no judgments. The homophobic yet loving father is treated with the same compassion shown to the secularly driven Adam and the purpose-searching Holly, Adam's friend and sometime employer at her candle shop. The playwright also wisely keeps the saccharine to a minimum. What could easily have turned into a gay version of a Lifetime TV movie is instead an honest portrait of realistic people. His fellow performers will revel in these parts, and the play will no doubt be seen on the roster of many regional theaters in seasons to come.
The original company repeats its sterling ensemble work. Patrick Breen's Adam is sharply funny and deeply moving. Breen can time a wisecrack perfectly, as well as hold a tearful pause to reveal Adam's breaking heart. Patrick Heusinger carefully delineates Luke's struggle to reconcile his faith with his worldly desires. Maddie Corman gives just the right spice and sweetness to Holly while avoiding the "fag hag" cliché. Sean Dugan has the most challenging role as Luke's friend Brandon, who shares Luke's belief that being gay is sinful. Brandon is basically a device, there to give voice to the extreme version of Luke's views and provide Adam with a sounding board in a crucial scene. Nevertheless, Dugan manages to make the character three-dimensional.
I especially admired Cotter Smith and Connie Ray as Luke's long-divorced parents. Their whole history—together and apart—is clearly conveyed through glances, gestures, and intonation. This attention to detail informs the entire show.
Can such a small-scale, touching production make a go of it on a Broadway hungry for razzle-dazzle? In this economy and with no stars—except for Elton John as a producer—"Next Fall" will be lucky if it can. Here's hoping it does.
Presented by Elton John and David Furnish, Barbara Manocherian, Richard Willis, Tom Smedes, Carole L. Haber/Chase Mishkin, Ostar, Anthony Barrile, Michael Palitz, Bob Boyett, James Spry/Catherine Schreiber, Probo Productions, and Roy Furman, in association with Naked Angels at the Helen Hayes Theatre, 240 W. 44th St., NYC. Opened March 11 for an open run. Tue., 7 p.m.; Wed.–Sat., 8 p.m.; Wed., Sat., and Sun., 3 p.m. (No performance Sun., March 14.) (212) 239-6200, (800) 432-7250, or www.telecharge.com. Casting by Howie Cherpakov.