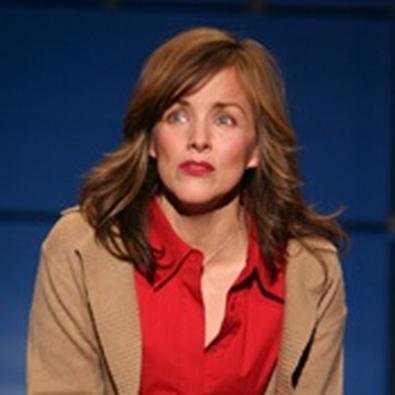 Have you ever loved a person who didn't love him- or herself? It's a humbling, Sisyphean experience, suffered in the self-destructive Next to Normal by a family ravaged and raw from bipolar disorder — and passed on to an audience made to suffer for its own compassion. Like most bipolar sufferers, the musical can follow a disastrous flare-up of insecurities with enough seeming sincerity and gleaming charm to almost seduce you back. Don't let it. Tough love is the better course, lest you find yourself at the end of this overlong, overloud affair again starting to feel something only to have your empathy drowned by a final tidal wave of droningly obvious lyrics and aggressively ugly staging.
Next to Normal is slow out of the gate, sacrificing clarity for the sake of a "traditional" musical opening number. Meeting the gorgeous family and the gorgeous face they put on their problems is inoffensive to be sure, but it sets up the musical as yet another portrait of middle-class dysfunction and so forces the show to relaunch as it reveals the mother's (Alice Ripley) mental illness and to relaunch again as it reveals that the teenage son (Aaron Tveit) we've all somehow seen is actually her mentally aged image of an infant who died 16 years ago.
Why has he nevertheless grown up? How has this lost babe matured into a young man with well-defined abdominals? Next to Normal offers no answers, but it does manage to showcase Tveit in his boxers and wrap him around Ripley, badly blurring the stakes. When she turns away from her family, is she indulging in painful memory or sexual fantasy?
As these images suggest, book writer-lyricist Brian Yorkey's logic-light script is done no favors by the usually sure-handed director Michael Greif. Rent is closing on Broadway in just a few months, so we might all be inclined to forgive its Tony-nominated helmer for some bits of nostalgic fancy. Here, though, again working from a score that aspires to rock, Greif borrows from himself in ways that don't play as homage. In fact, they just don't play. A steel staircase is trotted out center so that Ripley, soldiering through an ungainly, unglamorous role, may do an unfortunate take on "Out Tonight" ("Out of her mind tonight"?). Performers playing suburban mainstays clutch poles and tabletops, emoting and wailing in the iconic pop poses of their East Village forerunners. The worse offender is Tveit, whose obnoxious mop-top-rocker routine is reminiscent of Adam Pascal had he been crossed with Topher Grace (in the looks, not acting, department).
And then there's the movement. Throughout the show, choreographer Sergio Trujillo (Jersey Boys) treats mental unfitness as an excuse for physical extravagance. Like most of Next to Normal's failings, the issue comes to a head with Tveit's character, whose unrestrained physicality is a car wreck that you really can turn your head away from.
There are other issues that the show should have had examined by a doctor. Symptoms include a score (by High Fidelity's Tom Kitt) that cranks the volume when its hooks don't take hold; insistent use of profanity without dramatic, comic, or rhythmic payoff; and forced, false parallels between the romantic relationship of the parents and that of their acting-out daughter (the very young, very talented Jennifer Damiano) and her gentle stoner boyfriend (the impressively unirritating Adam Chanler-Berat).
Somehow surviving each and every psychotic event is the family's father, an unrewarded hero — much like the man who plays him, Brian d'Arcy James. His voice equally glorious whether plaintive or powerful, his acting clean and beautiful, James is the only truly lucid thing in a stricken musical still yet to correctly diagnose itself.
Presented by and at Second Stage Theatre,
307 W. 43rd St., NYC.
Feb. 13-March 16. Tue., 7 p.m.; Wed.-Sat., 8 p.m.; Wed. and Sat., 2 p.m.; Sun., 3 p.m. (No performance Thu., Feb. 14; additional performance Sun., Feb. 17, 7 p.m.; evening performances Wed., Feb. 20; Thu., Feb. 21; and Fri., Feb. 22, are at 7 p.m.)
(212) 246-4422 or (800) 766-6048 or www.2st.com.
Casting by Telsey + Company.