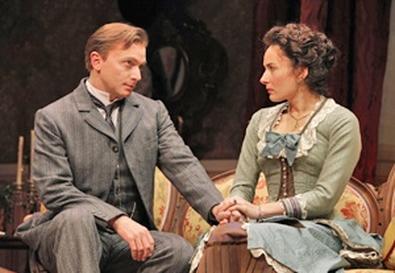 Farce and drama blend in Sarah Ruhl's odd but endearing new work, "In the Next Room or the vibrator play." This is the type of play no commercial producer in his or her right mind would ever mount on the Main Stem, but Lincoln Center Theater is presenting it at the Lyceum because "South Pacific" continues to run at the Vivian Beaumont. It's challenging and strange and addresses the uncomfortable issue of women's sexuality. Conventional Broadway audiences won't know what to make of it.
Set at "the dawn of the age of electricity…circa 1880s," the play examines the treatment of women's "hysteria"—depression caused by sexual frustration—by means of the newly invented vibrator. Gynecologist Dr. Givings administers "electrical massage" to repressed housewives, while his own spouse is unfulfilled as both sexual partner and mother. She listens at the door of her husband's operating theater—the "next room" of the title—as his patients moan in ecstasy. In addition, her milk is inadequate to nourish their newborn baby, so an African-American wet nurse is hired.
Director Les Waters' production mines the comic potential of this setup, with the audience howling at the sexual misconceptions espoused and the powerful effects of Dr. Givings' marvelous instrument. Waters also stresses the tragedies caused by the characters' being out of touch with their bodies. With the exception of Elizabeth, the wet nurse, everyone seems to be painfully yearning for something that he or she can't even name. It may be artistic or sexual freedom, but they've been imprisoned by Victorian convention for so long that they don't even know they're in jail. There are some repetitions and a few gaps in credibility, but Ruhl's grasp of her characters is strong, and their troubles are affectingly depicted.
As the vibrant Mrs. Givings, Laura Benanti is a ball of fire barely contained by costume designer David Zinn's elegant but restrictive corsets and gowns. Best known for her roles in musicals, including a Tony-winning turn in "Gypsy," Benanti is emerging as one of our best young actors. Her Mrs. Givings is wildly funny as she blurts out inappropriate observations and achingly moving as she tearfully seeks to fill voids in her soul and libido. Fellow Tony winner Michael Cerveris is equally complex as Dr. Givings, who believes he's a forward-thinking scientist but is as convention-bound as the most domineering husband. In a shattering final scene, beautifully staged by Waters with the aid of Annie Smart's moving (both literally and figuratively) set and Russell H. Champa's warm lighting, Cerveris bravely sheds both the doctor's insecurities and his clothes.
Maria Dizzia, Thomas Jay Ryan, Wendy Rich Stetson, and Quincy Tyler Bernstine effectively invest their roles with hidden desires and concealed passions. Conversely, Chandler Williams' Leo Irving, a British painter and one of Dr. Givings' rare male patients, comes across as a stage convention: the haughty, romantic artist identified by his eccentric clothes and rakish poses. I didn't believe any of his professed longings. It's the one wrong note in a painful and riotous symphony of sexual searching.

Presented by Lincoln Center Theater at the Lyceum Theatre, 149 W. 45th St., NYC. Nov. 19–Jan. 10. Tue., 7 p.m.; Wed.–Sat., 8 p.m.; Wed. and Sat., 2 p.m.; Sun., 3 p.m. (No performances Thu., Nov. 26, Dec. 24, and Dec. 31; additional performances Fri., Nov. 27, 2 p.m.; Sun., Dec. 27, 8 p.m.; and Mon., Dec. 28, 8 p.m.) (212) 239-6200, (800) 432-7250, or www.telecharge.com. Casting by Daniel Swee.