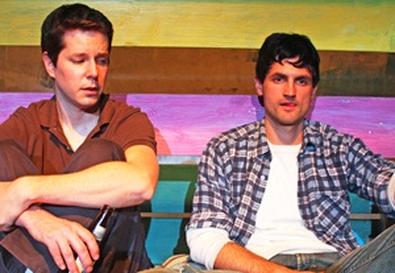 Ah, those all-important transitions in life. They can certainly be as sudden, scary, and all-consuming as, say, an encounter with a monster in a 1950s sci-fi movie. And that's pretty much where Ken Urban starts in his play about New Jersey teens—best friends occupying that exciting, terrifying, and mind-boggling place that is the end of their youth. Big changes are ahead for the graduating class of '92. Unfortunately, Urban's provocative premise doesn't take us far enough into new territory and isn't enough to hold together this sometimes random, overlong evening.
Nicholas S. Williams plays the narrator of "Nibbler": the smart kid from the wrong side of the tracks who may not make it out of his oppressive hometown of Medford, N.J. Rick Steadman plays Matt, the mayor's somewhat rebellious son, with Alana Dietze as his privileged girlfriend. Then there's Pete (Ron Morehouse), whom we all know is gay even as he scorns Matt's taste in "gay" music; and quirky outsider Tara (Joannie Ellen), the brainy, hot girl who never saw herself as either. They've all got secrets. The actors are solid, even when negotiating emotional leaps that appear to come out of nowhere. Ellen in particular is absolutely adorable, and her scenes with the understated Darrett Sanders as Officer Dan are quite wonderful. But if it all sounds a bit familiar, it is. Although director Mark Seldis does a bang-up job of moving things along on Maureen Weiss' attractive set of crayon-colored school bleachers and torn scrapbook pages, there's simply not enough here to keep us engaged. It doesn't help that we're thrown more than a few stylistic curves, including a puzzling musical finale.
So "Nibbler" is a coming-of-age story with a lot of fun stuff about sex and '80s music and sex and pre-Clinton politics and sex and captured memories. But, in the end, even the glow of otherworldly creatures invading New Jersey woods doesn't shed the kind of light on this material that we need here.
Presented by and at Theatre of NOTE, 1517 N. Cahuenga Blvd., Hollywood. Nov. 6–Dec. 12. Fri.–Sat., 8 p.m.; Sun., 7 p.m. (Dark Nov. 27–29.) (323) 856-8611. www.theatreofnote.com.