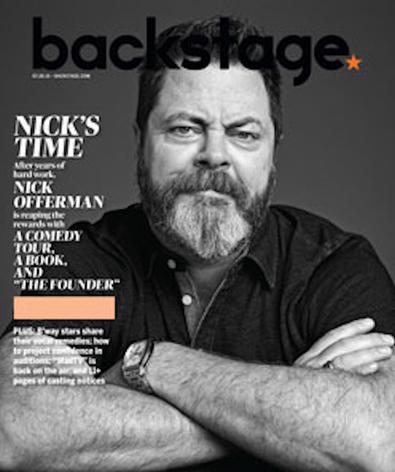 Everything you need to know about Nick Offerman lies in the advice he gives actors (and in the particular way he phrases it): "Everybody wipes their fanny the same."
Over coffee at Manhattan's Housing Works Bookstore (a space he declares "really groovy"), Offerman says his earliest auditions would've scared him less had he known that directors are just people, too. "Nobody wants it to be high-stakes. When you go into the room, they want to feel like they can hang out with you for three months or a year."
Between his upcoming slew of indie films, a book, a comedy tour with his wife (actor Megan Mullally), his frequent appearances on the small screen, and hosting the 2016 Webby Awards, it seems other artists are clamoring to hang out with Offerman.
It's easy to see why: The actor is warm, courteous, and funny in a brow-furrowing sort of way. He also has a distinct flair for elocution. For instance, he and Mullally have "the same vaudevillian fire in our bellies," he says. Director John Lee Hancock looks like "Clint Eastwood's librarian son." Ron Swanson, Offerman's beloved character on NBC's "Parks and Recreation," consisted of three basic elements: "The mustache, the hair, the constipated rictus of my face."
The folksiness in the actor's vocabulary comes from Minooka, Illinois, where Offerman learned on the family farm how to do a lot with a little. "My parents should win many trophies," he says solemnly. "Working with my hands and simply laboring to the point that I sweat and develop calluses is a very important part of my character, and, to me, a very important part of a fulfilling life." (His newest book on woodworking, "Good Clean Fun: Misadventures in Sawdust at Offerman Woodshop," will hit bookstores in October.)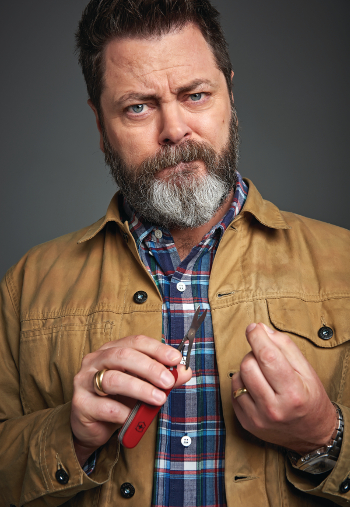 But as a child, of course, he was also really weird. "The problem between them and me was I had the leprechaun gene. 'You guys, I have to dance!' " How does a stage-struck kid in a small farm town satisfy his need to perform?
Offerman did plays and musicals throughout high school—plus played football and the saxophone—all while wondering if he could become an entertainer. "My whole world was, 'No, that's not really done,' " he remembers. "I literally searched to the ends of my county, my tiny, little, solipsistic world, and no one had ever gone into the arts. I obstinately said, 'I don't think I agree with you guys. I think there's a place for me somewhere.' "
He was proven right on a trip to the University of Illinois at Urbana–Champaign, where he dropped off his high school girlfriend for her dance audition and ran into two theater students in the hallway. He didn't even know drama could be studied in college. "They said, 'We learn to do plays.' 'What the fuck are you talking about? Then what?' They said, 'Then you go to Chicago and get paid to be in plays.' And my head exploded. I was like, I knew it!"
For his UIUC audition, Offerman chose two contrasting monologues so bizarre, he says, it's a miracle he got in: a dialogue between two characters in "Steambath" and a speech full of dry medical jargon from "The Elephant Man." "They saw some buried spark of a jackass in me, I don't know," says Offerman, adding archly, "It became clear, once I got in, they needed a couple of guys every year who could carry the palanquin for the talented people to ride on. You know, you're going to do Shakespeare and you need Forest Lords 1, 2, and 3. I was No. 2. I was terrible."
Part of the problem during college, and even when Offerman ran a woodshop building scenery ("Find something to do to make money where you don't have to punch a clock," he advises) and co-founded the Defiant Theatre company, was that he hadn't yet realized that "leading male roles are usually pretty boring compared to the character roles," he says. "I looked myself in the mirror and said, 'OK, you're clearly another Tom Cruise.' In my defense, I was much cuter in theater school!
"During my first year in Chicago I finally cottoned to the fact that my own personality was the most valuable thing I had," he continues. "Because I came from this small farm town in Illinois, I had this notion—not cognitive, but a subliminal notion—that nobody would be interested in a hayseed like me. So I was trying way too hard to be more interesting than myself." Offerman found his voice on Chicago stages by opting out of leading man roles, an epiphany that, after a move to Hollywood and years of hard work, led to success—and the love of his life.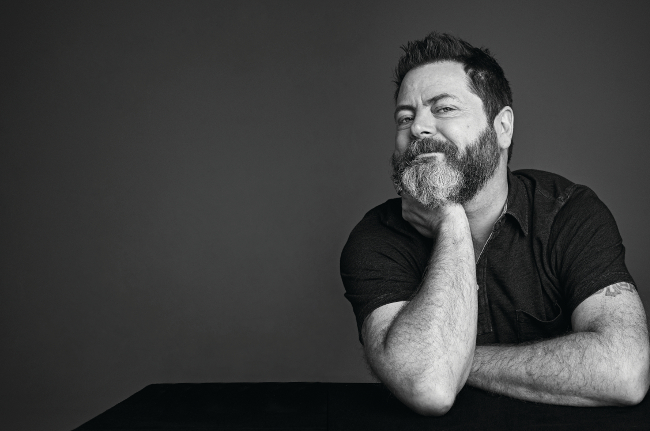 It was while rehearsing experimental theater at Bart DeLorenzo's Evidence Room that Offerman and Mullally began a beautiful, bizarre collaboration that continues to this day. The rapport between the two is on display in "Nick Offerman & Megan Mullally – Summer of 69: No Apostrophe," their touring comedy show. "Once I met Megan and had her to come home to, that changed everything," he says. "Whatever she touches is a work of art.... I've really got my feet under me and know what I'm doing now in part thanks to my teacher."
In fact, Offerman credits his wife's career-defining work on "Will & Grace" as the inspiration he later needed to conceive his "Parks and Recreation" character with Greg Daniels and Michael Schur. Much of Mullally's Karen Walker can be found in Ron Swanson, he says. "I saw how hard she worked at home to refine everything she did. I've never stopped learning from her."
Watching Mullally make a name for herself, and then going on to do the same, Offerman believes what he learned in Chicago holds true: To succeed as an artist, you have to bring all of your personal quirks to the table. "It was late [in our] 30s, both of us. And it was because of creators seeing and appreciating our weirdness."
Thanks to Ron Swanson, creators continue to cast Offerman in roles that embrace his particular weirdness; he's stolen scenes in "The Kings of Summer," "The Lego Movie," and on FX's "Fargo," the latter of which earned him a Critics' Choice nomination. Come Oscar season, he and John Carroll Lynch can be seen as the McDonald brothers in "The Founder," a biopic of fast-food entrepreneur Ray Kroc starring Michael Keaton.
Whatever his future projects may be, Offerman will continue to seek joy and practice gratitude. "It's asinine, it's completely foolish to go into acting," he says simply. "Even if you are Megan Mullally, you can be in the business until you're 37 before you get your big break." Having a hobby like carpentry that fulfills and helps feed you, he adds, is the key to maintaining sanity—and avoiding "the way of the asshole," as he puts it.
Is there a parallel between woodwork and acting? "Yeah, first you have to pick your wood: 'This guy's gonna be maple,' " Offerman says with a laugh, going on to carefully construct the metaphor. "Anything I build—whether it's a back porch or a set for 'Macbeth' or an heirloom dining table or the role of Bottom—I approach with the same reverence. And I try to keep my tools well-honed so the manifestation of the creation is as pleasing to myself and the recipient as possible."
---
The Actingwood Bible
While constructing sets and devising onstage high jinks in Chicago, Offerman browsed Backstage, he says, "to keep up with what was going on and read about actors and directors and writers. It was addictive, but also depressing, to see all the casting notices."
Depressing? "Until you start getting work, it's kind of surreal and depressing sometimes to see a publication [saying], 'Here are all the shows that you didn't even get an audition for,' " he jokes. "The thought of what we saw in Backstage, of getting to New York theater, you couldn't get there as far as we understood. But then when I got to L.A. in the late '90s, there was Backstage West and that became rather biblical."
Although he's appeared on the covers of Popular Science and Fine Woodworking, Offerman has a special place in his heart for Backstage. "I can't tell you what a privilege it is to be in your magazine," he says. "This was like having the Sears catalog out in the country as a kid. You'd look through to see what you would buy in your dream life. That's what Backstage was for me."
Want to find your career's breakout role? Check out our television audition listings!