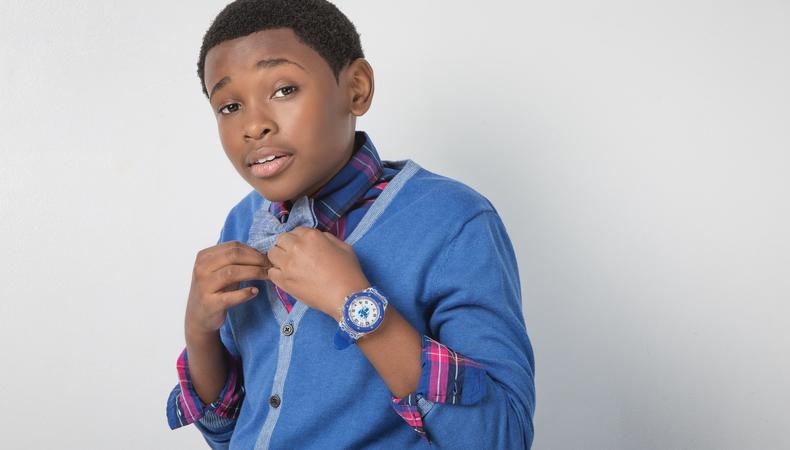 Thirteen-year-old actor Curtis Harris, who plays the not-so-spooky Miles Preston on Nickelodeon's sitcom "The Haunted Hathaways," chats about playing a ghost and his advice for young actors.
On the similarities between him and his character.
"I'm very happy and energetic, just like [Miles]. [We] are definitely into clothes and fashion. I actually wear bow ties just like he does. We both like to make friends and to make other people happy. I do a lot of charity work with Nickelodeon and sometimes on my own. I love doing that stuff [for others]."
On playing a ghost.
"Even though I do use my ghost powers, I don't like scaring. And sometimes Miles wants to make friends so much that he kind of wants to be human. But the thing I like about being a ghost on the show is that there are endless possibilities of power; there are no limits. I can fly. I have telekinesis. I'm invisible. I can teleport. I can do anything; it's really cool. Ghosts have all the powers."
On advice for young actors.
"It may seem clichéd, but I think the best advice is to work hard and to not quit. No matter what you're doing, even though it may seem slow for a month or two, you just keep going. People will see that you're not gonna stop working and that you're not gonna quit, and that drive will definitely, definitely get you far in your acting career."
On what's he's learned from this experience.
"Since it's a sitcom, I [learned that] improv is probably one of your best friends. You have to trust your instincts when it comes to a certain line. You know, if you've been doing it the same way, just try it a different way next time. See what happens and you may impress the producers and directors. They may just love it and have you do another one."
On how he got into acting.
"When I was about 3 years old, one day I was watching TV and I was looking at everybody on the commercials and TV shows and in movies and I just had a certain connection with that; I just knew that this is what I wanted to do. And I said, 'Mom, I want to be actor.' I had a little 3-year-old voice. And funny enough, we missed the sign-up for Little League by 20 minutes, and my parents needed me to find something to do over the summer. A flyer came in from the local theater the same week and my mom called. Now, the theater was a little pricey, so my dad offered to be the cameraman and record and edit all the plays they had, and in exchange I got to attend."
Like this story? Read more of our Spotlight On interviews!