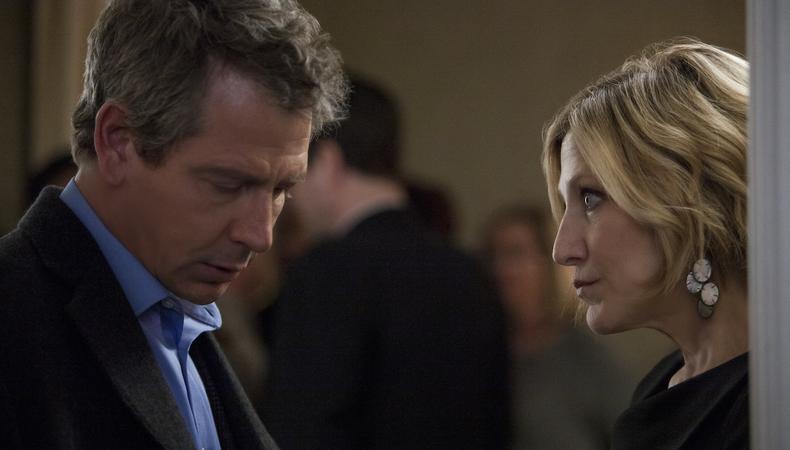 Nicole Holofcener knows that "The Land of Steady Habits" is different from what you've come to expect from her work. "I wanted to go into this sad world," she says of the 2014 Ted Thompson novel from which her film is adapted. "I liked the challenge of having a male lead in the script, and I guess parenting and my relationship with my children and my ex-husband—I related to so much of it that it just spoke to me [and] said, 'Make me'.... I was happy to try to get out of the 'chick flick' label that I am often put under."
The Netflix feature (out Sept. 14) has the acclaimed filmmaker behind "Friends With Money," "Please Give," and "Enough Said" turning her attention from complex women of a certain age to an affluent white male named Anders (Ben Mendelsohn), who is going through a midlife crisis and leaves his wife, Helene (Edie Falco), and quits his cushy finance job. By the end of the film, it's not just his ability to keep a home in Westport, Connecticut, that's been leveled: The undertow of his substance abuse, depression, and general irresponsibility sweeps away those Anders used to love (along with a few innocent bystanders) with at-times devastating ramifications.
"I want people to understand that I'm trying to show a character, a white man with upper-class, white people problems, and that I'm not celebrating that. I'm condemning it: Look at how dangerous this white man and his white-man problems can be," Holofcener explains. "I'm not glorifying that, but there is legitimacy in everybody's story and there's pain in everybody's lives. It might not be the #MeToo movement movie of the moment, but it is still about humanity and a part of humanity that exists. I just want people to be moved."
READ: How to Audition for Netflix
While "The Land of Steady Habits" is more dramatic than Holofcener's comedic credits, it expands upon her penchant for mining simple, everyday affairs with moving ease and naturalism. So, as her career—built on bringing decidedly human stories to the screen—has progressed, what makes her look at an actor and say, "I want to work with them"?
"I'm attracted to actors who have regular voices; normal faces, meaning no surgery, in general—or at least not that anyone notices; and the instinct to just be natural and authentic and not look like they're trying. I just am drawn to them intuitively and try to seek them out." She cites longtime muse Catherine Keener from her other films as one such talent. She's "beautiful but accessible and really natural. Everything out of her mouth sounded interesting to me, and I feel that way about Ben Mendelsohn or Julia Louis-Dreyfus [of 'Enough Said']. They just are engaging without faking it."
And for actors who find themselves in Holofcener's audition room, as "Ozark" star Charlie Tahan did for "The Land of Steady Habits," the filmmaker wants to see those human, in-the-flesh qualities peek through the inherent nerves and stiffness of the auditioning atmosphere. Don't be afraid to be yourself.
"I think actors are afraid to start over or show their humanness in an audition, and that's what I look for," she says. "You know, if somebody is reading or doing the scene, and they find themselves doing bullshit, I'd love it for them to say, 'Can I start over? Can I go to the bathroom? Can I take five minutes?' We're just people in there, and I think for actors to show their best selves, they have to have that kind of freedom."
Ready to get to work? Check out Backstage's film audition listings!