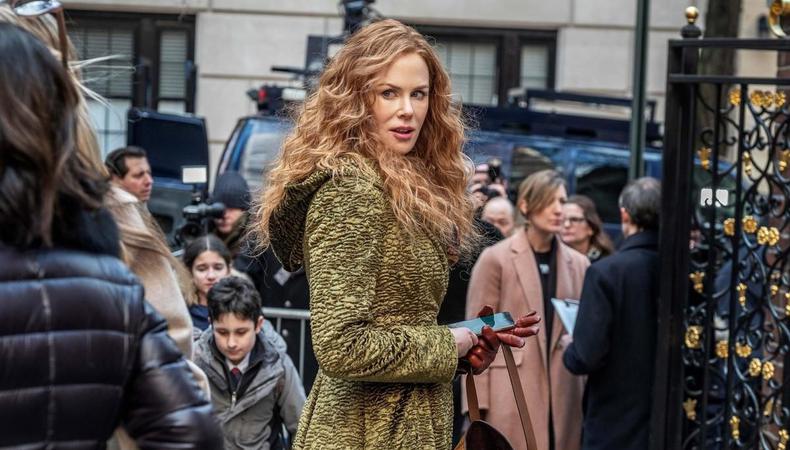 If you've watched Nicole Kidman in any film or series throughout the last 16 years, chances are, you are unknowingly familiar with the work of Kyra Panchenko. Kidman's long-time makeup artist, Panchenko has worked with the Academy Award winner on everything from "Rabbit Hole" to "Stoker" to her Emmy-winning stint on "Big Little Lies." The dynamic duo re-teams for HBO's latest miniseries "The Undoing," which premiered Oct. 25.
How would you describe the role of the makeup artist?
We're the first people that the actors see coming in, and the last people they see leaving, and [they see us] the entire time in between. I always try to make my makeup room quiet or tranquil. Some actors like candles, some don't. Some are more quiet, some love really good music. It is their place where they can prepare to go out on set. Sometimes they close their eyes and lay back in the chair and just let me do my thing. It's pretty much everyone's favorite place to go, I think.
How closely do you work with actors generally? Do you appreciate their input?
I'm really there to execute the vision of the director and the actor. We don't take charge. We talk to the director, they have a vision, the actor has a vision, we put it all together. Some directors love hair and makeup, they love the whole process of it. They love to come up with ideas with the hair and makeup department, some don't care at all. They're just like, "I don't want you to be wrong. I don't care what we do." Therefore, you have a little bit of freedom to design fun-looking, cool makeup. I've developed a lot of iconic looks for actors.
Did you and Nicole develop her look for "The Undoing" together?
This was the circumstances of a director knowing exactly what she wanted: "I want big, red, curly hair. I want her bohemian-looking, I don't want too much makeup." She gave us exactly what she wanted, and she did not want anything else. She wanted it red, she didn't want it blonde. She wanted a minimal lip, minimal face, dark nails. That was our guide to that whole entire look.
Is makeup a big part of Nicole's character development generally?
It is a part of that process. It's the clothes, the hair, the makeup. Once that all comes together, it's supposed to fall in place. You're rehearsing, you figure out this character, you start to see the wig go on and you're looking at it going, "Oh, wow. That's interesting." Sometimes I'm certainly like, Is that the right thing to do? But Nicole trusts her team, she trusts her director. Other actors like to have massive input. Nicole definitely has input, 100%, but she also is very trusting when she decides to work with someone. She's at the point in her career where she knows if she wants to work with someone, so right then and there, she's going to be trusting almost immediately because she chose to work with them.
How do you establish trust with an actor?
If you're a personal, you are there to protect them in all ways. I know what she needs. I know if she's like blinking her eyes like this, the body language, I understand what she needs. I know when to stay away, I know when to come in. I know when to leave her alone. I know when I have to break her concentration, because it's so necessary to fix something. It's annoying for somebody to come in when you're doing a really intense theme. It's really tuning into their needs, and then it just becomes so easy for them, and they trust you, they know that you're only coming in because it's necessary, because you're watching and taking care of them and doing your job.
READ: 'The Undoing' Director Susanne Bier on Getting
'Seduced' by Nicole Kidman
How do you and Nicole usually prepare for a project?
We don't work on every single project together. Right now she's in Australia doing something, so she's with another one of her makeup artists but we work together quite a bit. We get very excited to work together and we start talking about the project. We're getting ready to do something so right now we're emailing and discussing our ideas. We're talking to the director, because this director particularly has a very clear idea of what he wants, as well. We are checking in with him, we are tossing ideas back and forth. That's our process. Sometimes Nicole will have a clear idea, like, "I really think she should be blonde" or, "I really think she should wear a lot of makeup or not wear a lot of makeup." It's fun for us, because we're always trying to come up with something new. What haven't we done yet? What would work for this person? Who is this person? What's gonna look good? I really love the creative process.
Do you have any advice for someone who wants to be a makeup artist?
Take every job that's thrown at you, whether it's small or big. I never said no to anything. I always loved to assist people. I felt there was always something I could learn from somebody else. Be willing to do whatever it takes, even if that means working for free. I want to make the best connections. I still have friends from the indie film that I did back in the day, not making any money, but just loving the work and being in film and the process of filmmaking. These are still some of my oldest and best insurance friends to this day.
Looking for remote work? Backstage has got you covered! Click here for auditions you can do from home!