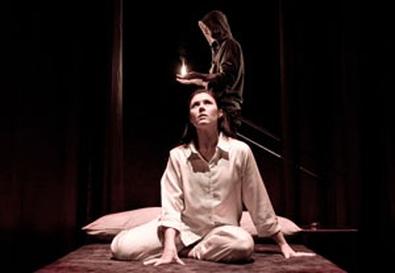 The theatrical thriller proves to be alive and well in the form of "Any Night," a smart and satisfying two-hander currently running at the LABA Theatre at the 14th Street Y. Featuring superb performances by its authors, Daniel Arnold and Medina Hahn, it packs enough shocks and surprises into its 80 gripping minutes to keep us sitting nervously on the edge of our seats like wide-eyed children wondering what's what until the final fadeout.
The winner of several Canadian theater awards, "Any Night" tells the story of Anna, a young woman with a severe sleepwalking problem who takes an apartment directly below that of a pleasant young man named Patrick. He proves to be very helpful to Anna, whose sleep is interrupted every night by episodes in which she climbs out of bed and performs strange ritualistic motions. However, we gradually realize that all is not as it seems with Patrick and his smothering friendliness. Nevertheless, Anna falls in love with him, even as her sleepwalking becomes increasingly dangerous to her and, ultimately, to him. Mixed in with their scenes are eerie vignettes of Anna's stay in a sleep clinic, in which two unseen men discuss her and her malady. Only at the end of the play do all the mysteries come together in a violent and revelatory confrontation.
Thrillers can't succeed unless we root for the protagonist and to some degree identify with, or at least understand, the villain. Hahn and Arnold do a splendid job of filling this brief. Arnold's Patrick is as appealing—and as creepy—as the geek next door, while Hahn breathes life into the victimized-single-woman cliché, imbuing Anna with dimension, strength, and more than a dash of danger.
They are abetted by Ron Jenkins, who directs with such command of tone that we never feel lost or confused by the play's complex, fractured storytelling. He and movement coach Laura Krewski wisely stock the play with an abundance of running, dancing, and fighting, a ploy that prevents it from dissolving into a somnambulistic goo.
Peter Porkony evokes an entire world with a few curtains, a bed, and a movable staircase. David Fraser's lights effortlessly demark or blur the boundary between dream and reality as required. Gord Heal's marvelous sound design is both poetic and unnerving, and his use of the sane and insane versions of "Sweet Dreams (Are Made of This)" as recorded by the Eurythmics and Marilyn Manson, respectively, is brilliant.
Though themes of voyeurism and paranoia surface in "Any Night," its primary aim is to take us on a wild, spooky ride, not to explore the crevices of the human mind. At that it thoroughly, intelligently, and refreshingly delivers.
Presented by Starry Night Entertainment, in association with the Bridge Theatre Company, at the LABA Theatre at the 14th Street Y, 344 E. 14th St., NYC. June 8–19. Mon., Wed.–Sun.,, 8 p.m.; Sat. and Sun., 3 p.m. (212) 868-4444 or www.smarttix.com.