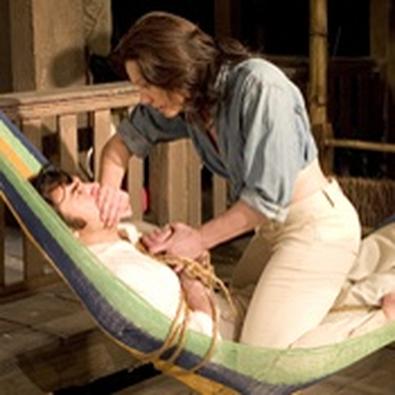 Tennessee Williams' humid tale of lust and spiritual crisis on the Mexican coast gets a penetrating, technically adroit treatment in T. Schreiber Studio's new revival.
Derek Roché plays the Rev. T. Lawrence Shannon, a disgraced Episcopalian minister who lost his congregation due to shenanigans with an underage girl and a subsequent heretical sermon. Reduced to driving a bus full of obnoxious tourists to make ends meet, he spends his off hours battling ennui, drinking to excess, and lounging in a hammock on the Costa Verde Hotel veranda. His principal companions are the recently widowed, hot-to-trot hotel proprietor, Maxine Faulk (Janet Saia), and Hannah Jelkes (Denise Fiore), a New England spinster who arrives at the hotel with her wheelchair-bound nonagenarian poet-grandfather, Nonno (Peter Judd), in tow. The playwright fills out the margins of his drama with a gallery of comic grotesques, including a group of absurd German tourists and two specimens of dancing, bare-chested Mexican beefcake that Maxine keeps around for sexual and decorative purposes.
Only Roché misses the mark, being too young and collegiate to convey Rev. Shannon's world-weary dissipation and defeat. (It also doesn't make much sense for Maxine to chide him for liking "the young ones" when he's not much more than a stripling himself.) Roché partially makes up for it with sheer nervous energy, but it's a measure of how well-judged the rest of the production is that it can survive the miscasting of its male lead. Saia, in particular, conveys a languid, offbeat sensuality and boasts a very charismatic midriff; Fiore imbues Hannah with the requisite delicacy and compassion.
Williams is among the most overwrought and unabashedly literary of great writers, and director Terry Schreiber has responded to his amped-up, metaphor-heavy style by treating it with as much verisimilitude as possible. A sultry haze enshrouds George Allison's naturalistic set, an old-fashioned hand pump gushes torrents of water onto the stage, and a sudden thundershower sends streams of midsummer rain coursing through the rustic wooden slats of the hotel veranda. Combine that with the complex sound and lighting effects from Chris Rummel and Andrea Boccanfuso, respectively, and you have some of the most gorgeous production values you're likely to see in a show of this size.
Still, for all its sensual immediacy, the play is ultimately concerned with Williams' unorthodox conception of God and the strangely chaste love triangle that lies at its heart.
Presented by and at T. Schreiber Studio,
151 W. 26th St., NYC.
Feb. 29-March 30. Thu.-Sat., 8 p.m.; Sun., 3 p.m.
(212) 352-3101 or (866) 811-4111 or www.theatermania.com.