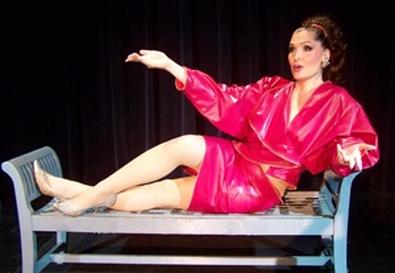 In her solo show "A Night at the Tombs," the beguiling Bianca Leigh tells us what it was like to be young, gifted, and transgendered in 1980s Manhattan. If the story, surprisingly, is not quite as fresh as anticipated, it's clearly honest and consistently engaging. And because Leigh is equally talented as a writer and an actor, her 75-minute soufflé rises with appealing panache.
The piece is structured as a flashback from a cell at the New York prison that provides our heroine with her title. Leigh languishes there due to a prostitution charge connected with her job as a dominatrix at a heterosexual S&M club. Soon we are learning about her challenging suburban New Jersey childhood as an obviously effeminate boy, her flight to freedom across the Hudson as a young man determined to change that, and the various jobs she's been forced to take to earn enough money to get the hormones and operation she craves. These include salesclerk at Macy's (for the health insurance) complemented by an extracurricular stint at the old Show World peepshow club on 42nd Street, which points the way to the dominatrix gig.
Leigh is beautiful and brainy, with winning stage presence and a delightful rapport with her audience. She inhabits a gallery of colorful characters convincingly and is as adept at emotional truth as she is at witty one-liners. On top of all that, she can sing. Under the watchful eye of director Tim Cusack, who also is credited with developing the show, Leigh never lingers too long in any one place as their entertainment flies confidently by.
I do have one caveat. Leigh, who sings six original songs in a variety of styles—pastiche 1940s pop to dizzy disco to Latin ballad—deserves sharper musical material. Only Taylor Mac's striking "Chase Me" shows both musical originality and the concision of a practiced lyricist (despite the occasional false rhyme) that gives a song force and weight. Leigh has penned or co-penned three of the remaining lyrics, but I'm afraid her talents don't seem to extend to this very specific craft that Alan Jay Lerner once put on a par with woodcarving.
Theatre Askew's spit-and-shoestring production fits the colorful Bowery Poetry Club as enticingly as Leigh fills out Machine Dazzle's glam red-leather dominatrix outfit. I came late to the party with Askew, discovering the company thanks to its fine 2009 production of William M. Hoffman and Anthony Holland's "Cornbury: The Queen's Governor." A glance at the various bios reveals a number of past shows I wish I'd caught. I'll pay better attention in the future.
In her closing speech, the just-freed Leigh vows defiantly, "I have as much right to breathe this air as anyone else. I will take up space, and I will do it beautifully." She's already accomplishing that every Thursday night at 8 on the Bowery, and she's a joy to behold.

Presented by Theatre Askew in association with Spin Cycle and the Bowery Poetry Club
at the Bowery Poetry Club, 308 Bowery, NYC. July 8–Aug. 5. Thu., 8 p.m. (212) 352-3101, (866) 811-4111, www.theatermania.com, or www.spincycle.com.