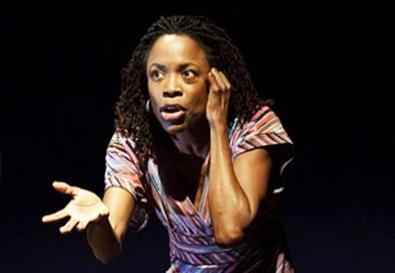 Sometimes people decide not to have children. When that happens, it's not unusual for loved ones to object or resist. Still, it's for no one to judge, as Charlayne Woodard's exquisitely written, beautifully performed "The Night Watcher" makes clear.
But in Woodard's fourth autobiographical solo play, she's not on the defensive. Coming from and marrying into a large family, and having acquired a network of friends and colleagues through the years, Woodard has played "Auntie" to a great many young people, often going well beyond duty's call in moments of distress and need.
She could call it a best-of-both-worlds deal. After all, Woodard has cared for and even spent money on many of her friends' and family's kids without assuming ultimate responsibility for their welfare. But to characterize herself as that kind of Auntie would shortchange the power of her experience. Indeed, what makes "The Night Watcher" cathartic isn't Woodard restating her ability to go home at the end of the day, but her stepping into the lives of these young people—including 14-year old, pregnant Indira; motherless, illiterate Africa; and bombastic, overindulged Benamarie—at especially critical moments.
Director Daniel Sullivan's pacing is superb. Wisely, Woodard opts not to impersonate her galaxy of characters so much as furnish a flavor of them. At its core, "The Night Watcher" is her internal debate: Was it right for her and her husband to remain childless? Followed by her realization, in the fullness of time, that parenting is a matter of personal intuition, not genetic disposition.
Forgoing a family doesn't mean avoiding painful and hilarious moments: A razor-sharp scene in which Woodard buys her Maltese, Atticus Finch, a chocolate shearling coat while her mother chastises her childlessness delivers both. Still, it's knowing that parenting has no one-dimensional job description that gives Woodard peace of mind. If it means playing the "night watcher" so Nala, her terrified nephew, can sleep, that's okay. At the end of the play, as Tal Yarden's projections fill upstage screens with images of the kids whose lives Woodard has enriched, her smile is all the judgment she needs.
Presented by Primary Stages at 59E59 Theaters, 59 E. 59th St., NYC. Oct. 6–31. Tue., 7 p.m.; Wed.–Sat., 8 p.m.; Sat., 2 p.m.; Sun., 3 p.m. (212) 279-4200 or www.ticketcentral.com.