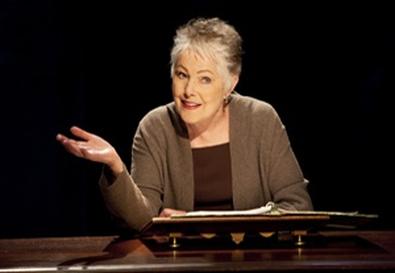 Lynn Redgrave's "Nightingale" is about as minimalist as you can get. She sits at a desk and tells us the story of her maternal grandmother, Beatrice "Beanie" Kempson, alternating her account with relevant reminiscences from her own life. It may not sound like much, but thanks to the tremendous specificity and detail of Redgrave's writing and acting, "Nightingale" is a haunting elegy and a moving act of love.
Redgrave was impelled to explore her grandmother's forgotten life by the failure of her own 32-year marriage and her subsequent battle with breast cancer. Since then, additional traumas suffered by the Redgrave clan have only fueled her need to reclaim her relative. "I needed her to make me safe," she says. Armed with nothing but her own memories and whatever stories she had been told by family members, particularly her mother, actor Rachel Kempson, Redgrave creates a complex human being, one whose repressed, unhappy life may have been all too typical of many women of her day: slavishly obedient to tradition, trapped in a loveless marriage, unacquainted with and afraid of her sexuality, resentful without understanding why. The toll Beanie's unhappiness and self-abnegation takes on her children, Redgrave's mother in particular, is explored, as well as how that filters down to Redgrave herself. As she puts it, speaking about both herself and her grandmother: "Loneliness within a marriage can drive you mad."
But, paradoxically, the acknowledgement of all this heartache, rather than coming across as an unhealthy dwelling on the past, proves healing. Understanding leads to forgiveness, even sympathy, and ultimately self-knowledge. Indeed, the evening's greatest strength is the crosscutting between past and present. We like to think of ourselves as well beyond such naive and sad behavior today, but Redgrave suggests we really haven't changed all that much since Victorian times; we've just changed the ways in which we process our dysfunctions.
Due to the side effects of medical treatment she is receiving, Redgrave remains at her desk with a script in front of her; she has performed the show elsewhere fully memorized and in presumably more mobile a fashion. But it really doesn't matter. She rarely glances at her script, and her concentration, focus, and nuance keep the audience right with her. This is a consummate actor working at full tilt, no doubt aided by the watchful eye of director Joseph Hardy, who never lets any moment linger a second longer than necessary.
As the child of English parents with a passel of U.K. relatives, I am perhaps predisposed to "Nightingale": Beanie reminds me in many ways of my late Auntie Dorothy. But as universality is rooted in specificity, I can't imagine anyone could be unmoved by Redgrave's compelling rendition of her and Beanie's story.
Presented by Manhattan Theatre Club at New York City Center Stage I, 131 W. 55th St., NYC. Nov. 3–Dec. 13. Tue., 7 p.m.; Wed.–Fri., 8 p.m.; Sat., 2 and 8 p.m.; Sun., 2 and 7 p.m. (212) 581-1212 or www.nycitycenter.org. Casting by Nancy Piccione.