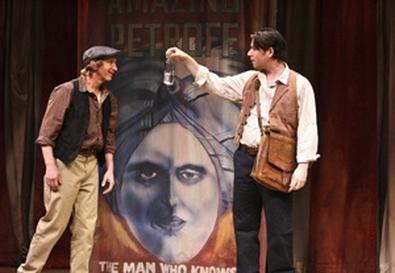 The genres of film noir and stage musicals aren't frequently cross-pollinated, so this tuner is indeed an offbeat concoction. Based on a novel by William Lindsay Gresham, which became a 1947 film, Jonathan Brielle's take on this morality fable doesn't feel as darkly compelling as it apparently set out to be, nor as musically vibrant as a story with a vaudeville-circus background might promise. It's an admirable effort to do something different, but in director Gilbert Cate's world-premiere rendition, the performers and staging offer more satisfaction than the vehicle.
Brielle's book, set within a traveling sideshow during the Great Depression, doesn't establish an involving narrative build; the plot tends to meander and the characters need more dimension. His score is generally more serviceable than sensational. Several songs lack melodic definition, relating information that would be better served as dialogue.
In the lead role of Stan, a grifter at an emotional crossroad, James Barbour has gorgeous ballads, most notably "I Surrender." His booming baritone is in tip-top shape, and his seemingly effortless charisma partially smoothes over the rough edges of an underwritten role. As an alcoholic carnie on a downward spiral, Larry Cedar brings good humor and brio to his "Human Nature" duet with Barbour. Cedar also elicits fun playing a second role, in cross-dress, as a wealthy dowager. Mary Gordon Murray is a splendid singer and gives two well-etched portrayals: the carnival's tarot-reading psychic, and a no-nonsense psychiatrist who is on to Stan's con games. As Stan's love interest, the carnival's execution girl, Sarah Glendening sings sweetly and offers a winning characterization. Michael McCarty is superb as the carnival barker, leading the title song, and as a wealthy man seeking the services of a medium. The Greek chorus of Tarot Ladies (Melody Butiu, Anise E. Ritchie, Leslie Stevens, and Alet Taylor) and two roustabouts (Travis Leland and Burke Walton) are adeptly played.
John Arnone's colorful set, dominated by circus-tent draperies, heightens the atmosphere, as do Daniel Ionazzi's appropriately garish lighting and Christina Haatainen Jones' costumes. Music director Gerald Sternbach and several musicians yield stellar results, and Kay Cole contributes flavorsome choreography. There's genuine promise in this musical, but the book and score need further development.


Presented by and at the Geffen Playhouse, 10886 Le Conte Ave., Westwood. April 21–May 23. Tue.–Fri., 8 p.m.; Sat., 3 and 8 p.m.; Sun., 2 and 7 p.m. (310) 208-5454. www.geffenplayhouse.com.