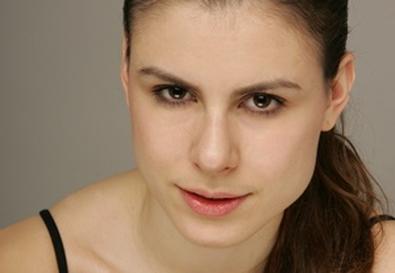 "There are projects and there are directors for every actor," says
Nikki Bohm
, who has been using Back Stage since she started her acting career in New York. After relocating to L.A., she received a casting alert for "
Patty: The Revival
," a new musical being produced by Patrick Kennelly for U-N-M-A-R-K-E-D at
Highways Performance Space
. But she had doubts about applying for a musical since she had not been trained as a singer and had often been told she was "too tall for the lineup." The project sounded interesting, though, so she decided to submit anyway.
Bohm liked the explanation of the concept in the casting notice so she set to work researching, which she always does before submitting for a project. She was impressed with the director's previous work as well as the concept for "Patty," a satire of celebrity culture. "I really liked the very eclectic kind of avant-garde aspect of what the show was supposed to look like and ended up being," she says.
Kennelly, who created, co-wrote, produced, directed, and cast the show, says 100 females were auditioned to fill six to eight slots. " 'Patty' was a unique project in that we were still developing the characters and writing the script as we were casting and actually crafted roles and text based around what we witnessed in the audition process," he says. Despite initially seeking fewer than 10 roles, after seeing the auditions, Kennelly expanded the cast to 15.
Bohm was prepared for the acting portion of the audition, but she had to spend some extra time preparing a pop-rock song. She made it to the callbacks and was asked to sing the lead vocals from one of the numbers, but they were out of her range. "I felt really bad, and I knew that probably I lost this audition," Bohm remembers. But she wasn't ready to give up. She contacted Kennelly and asked if she could try a selection in her range. Kennelly agreed, and after hearing Bohm's recording, he contacted her about being in the show.
Even though Kennelly had a creative vision for the project, it was a collaborative piece. Bohm says, "They allowed all the performers to deliver the extra spice that each person individually can bring to the role. They basically rewrote the character so it is perfectly molded to what my skills were and the way I am. The character was definitely born to be me." Kennelly agrees: "PMS became Nikki! [I] can't imagine anyone else now in that role."
Bohm dedicated herself to the project. Because she wasn't a trained dancer, the choreography was a challenge for her, but she embraced the learning experience. The dance sequences were filmed and posted to Vimeo, and Bohm worked hard on her own time to master the steps so as not to slow down the rehearsals.
Bohm enjoyed working with Kennelly and hopes to work with him again, whether it be in theater or film. Bohm credits Kennelly with giving her a chance to play a role that others may not have given her, due to her nontraditional musical-theater looks and her slight Croatian accent. For his part, Kennelly says, "Nikki was exactly the type of performer I love working with: totally fearless, unpretentious, and committed to risk and working outside of the box," which he finds rare in Los Angeles.
Bohm is a member of SAG-AFTRA. Her website is www.nikkibohm.com. For more info on the musical, visit www.pattytherevival.com.Has Back Stage helped you get cast in the past year? We'd love to tell your story. Be in the weekly column by emailing [email protected] for New York or [email protected] for Los Angeles with "I Got the Part" in the subject line.