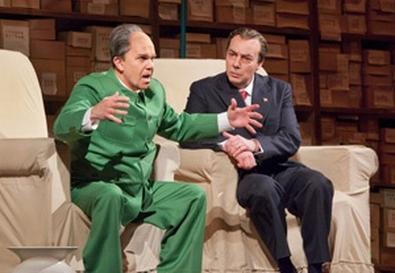 When it premiered at the Houston Grand Opera in 1987, John Adams' "Nixon in China" broke new ground. Here was an American opera reflecting on a recent historical event and exploring issues of contemporary media, politics, and culture. In its debut at the venerated Metropolitan Opera more than 20 years later, the work retains its cutting-edge status. Opera is still primarily seen as a vehicle for musical showmanship rather than as a means to convey social commentary. Peter Sellars restages his original mammoth production, and Mark Morris also repeats his 1987 choreography. It's a feast for the ears and eyes, with Sellars skillfully manipulating a huge cast amidst Adrianne Lobel's suggestive scenery and Adams' weirdly beautiful and insistent rhythms propelling Alice Goodman's poetic libretto.
The opera depicts the five days in February 1972 when Richard Nixon; his wife, Pat; and national security adviser Henry Kissinger visited China to establish diplomatic relations with America's Cold War antagonist. It was a major happening, the first time a sitting U.S. president had visited Communist China. But this is not documentary theater or a doc-opera. Adams and Goodman present a dreamlike vision of the two cultures colliding, revealing the private people beneath the public faces. As he greets the Chinese dignitaries on his arrival, Nixon muses on the nature of news and history in a thrilling aria. In the following scene, the summit of world leaders is staged in fascinating musical terms. The aging Communist Party chairman Mao Tse-tung sings of his political philosophy in a melodic tenor, echoed by a trio of female secretaries, who also act out their leader's quotations from his famous Little Red Book with hand gestures. Meanwhile, baritones Nixon, Kissinger, and Chinese premier Chou En-lai focus on the hard practicalities of international politics.
In the second act, the lines between brutal reality and polite statecraft are further blurred. During a performance of a propaganda-heavy ballet created by Mao's dragon-lady wife, Chiang Ch'ing, the Nixons become involved in the action and the stage erupts in chaos as the Cultural Revolution is re-enacted. During this hypnotically complex sequence, Haruno Yamazaki and Kanji Segawa athletically execute Morris' engaging choreography, and Kathleen Kim brings the house down with an intense delivery of Madame Mao's aria of fanatical devotion to her husband's teachings.
Though the first two acts work wonderfully in both musical and theatrical terms, I found the third act confused. While moving around a row of beds, each of the characters reflects on the historic visit and events in his or her individual past. There is little dramatic action throughout this final act, and though musically haunting, I found it static and drawn out.
Despite this caveat, "Nixon in China" remains a vivid, multilayered work in concept and performance. James Maddalena, who originated the role of Nixon and has played it around the world, goes far beyond "Tricky Dick" caricature to reveal the 37th president's insecurities and ambivalent reactions to his role in history. Likewise, Janis Kelly's Pat Nixon is no Stepford wife, but a woman desperately searching for stronger connections to her powerful husband and the world at large. Kelly's delivery of Pat's aria, "This is prophetic!," sung after a series of first lady–type visits, is especially moving. Robert Brubaker lends a wicked glint to the surprisingly mischievous Mao, and Russell Braun fully conveys the dark secrets and unspoken yearnings of the grave Chou. Richard Paul Fink convincingly doubles as the sagacious Kissinger and a comically diabolical villain in the Act 2 ballet.
Presented by and at the Metropolitan Opera, 70 Lincoln Center Plaza, NYC. Feb. 2–19. Remaining performances: Sat., Feb. 5, Wed., Feb. 9, Tue., Feb. 15, and Sat., Feb. 19, 8 p.m.; Sat., Feb. 12, 1 p.m. (212) 362-6000 or www.metoperafamily.org.