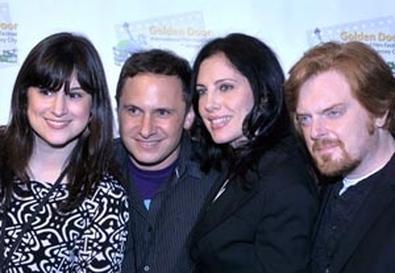 The four actor founders of Feenix Films have been through the industry's thorny gauntlet and lived to tell their tale. From standard rejections and wasted money to failed endeavors of their own, they've seen all of the letdowns that the acting world has to offer. Instead of shrinking away from each failure, these actors bounced back, using their setbacks as motivation for forming their New Jersey–based film production company.
Aptly named, Feenix Films is more than just a play on words addressing the indie necessity to "nix the fee" in film production. It also symbolizes its founders' rebirth as actors and filmmakers after fighting for years to make it. Born in 2008 out of the ashes of disillusionment, Feenix Films is a venture designed to allow its members to make movies that
they
would want to see and turn away from the negativity they experienced.
David LaRosa, Janine Laino, Nick DeMatteo, and Kate McGrath had similar reasons for forming the company. In a darkly serendipitous way, each at the same time struggled with and became discouraged by the entertainment industry. LaRosa and Laino had tried to build their Granite Theater Company. Intended to be an egalitarian theater community operating without a single person in charge, the venture was ultimately unsuccessful. DeMatteo and McGrath experienced similar disappointments and rejections. "We've all been burned in the past," says DeMatteo.
LaRosa had put more money into his career than he felt that he was getting out of it. He recalled thinking, "Why don't I take all that money and put it towards a movie?" He realized that films were becoming cheaper to make and that they had the potential to reach more people than theater. LaRosa, therefore, took the basic idea of a cooperative community of actors that he had with the Granite Theater Company and turned it into Feenix Films. He approached Laino, DeMatteo, and McGrath, who were all for the idea.
Feenix Films operates as an ensemble, a group of about 30 like-minded creative individuals. Emulating models like the Steppenwolf Theatre Company, the founders strive to create a tight-knit, familial atmosphere.
The production process typically begins with a script written by a member of the ensemble. From there, several members work to revise the script and begin casting, selecting their actors from the ensemble. Then it's on to a more formal reading and, finally, a production schedule and budget. Thus far, all features produced by Feenix Films have been self-funded by and completed from within the ensemble.
In making the films, each member brings something unique to the table and helps to form a complete crew. DeMatteo notes, "We all come in wanting to be actors, and one of the benefits is the fact that we also all seem to have skills that can help out in other ways." DeMatteo, for example, has served as music supervisor on some of their films, such as "Lock-Load-Love" and "Nicky Newark."
The ensemble acts as sounding board and support system, operating in contrast to the often-unforgiving environment of Hollywood. "We've all been rejected," says LaRosa, who says that he never outright dismisses anyone's ideas. The founders, self-described "advocates for artists," care about being honest and kind to their ensemble.
Notable is that actors founded the company. Because the directors in the ensemble are also actors, DeMatteo notes, "they respect what we've all been through." Directors are therefore more open-minded, more willing to welcome advice and new ideas. Laino, for example, helped guide a scene in a way that the director, LaRosa, hadn't considered.
Taking advantage of the accessibility and affordability of technology, Feenix Films has completed three features, "Lock-Load-Love," "Nicky Newark," and "DEALeR" (to be released), and has a fourth, "Clandestine," in preproduction. Once completed by the ensemble, the films are promoted with the help of a talent manager and through the company's Facebook page.
The founders work hard to get their films in front of as many viewers as possible, hosting special one-off screenings and entering their work in festivals. (LaRosa took home an honorable mention in the best narrative feature category at the Los Angeles Reel Film Festival for "Nicky Newark" and has been nominated for other awards.) In addition to awards and nominations, Feenix Films hopes to find a distributor for its films.
Laino says that the company, just 3 years old, is in a position where "anything and everything can happen." Although tremendous success is always a goal, LaRosa says that they are "very much focused on the present." They want to focus on the upcoming release of "DEALeR" and to make "Clandestine" an even bigger production than the preceding films.
Contentment with the present is understandable. These four individuals set out to make the movies they want to make, on their own terms, and they have repeatedly done so.
"Our goal for the company?" McGrath says. "We're living it."