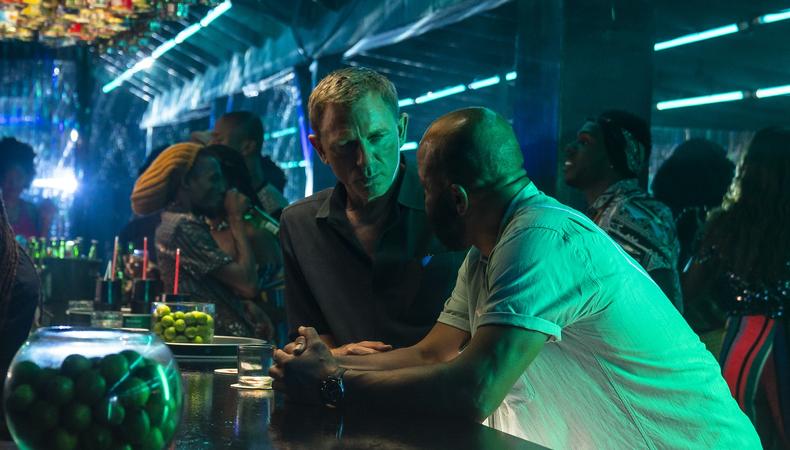 James Bond (Daniel Craig) finally returned in the BAFTA-nominated "No Time to Die" last fall—and the international spy's back-bending stunts did, too. Here, stunt coordinator Olivier Schneider breaks down his process with Craig and director Cary Joji Fukunaga, and reveals how he keeps actors safe during jaw-dropping set pieces.
How closely do you work with the director to conceptualize and execute stunts?
You have to work very closely with the director all the time. You need to know what the vision is and then offer the closest thing to the story he wants and to the characters. We spent a lot of time with Cary discussing his vision, what references he had, and how he was seeing things. And all that time, I was coming up with different ideas for him.
You've been in the stunt department on countless projects; what was unique about "No Time to Die"?
Everything you do on a Bond film is unique, because we try to push the limit all the time. It's the greatest franchise in the world, so we need to bring [you] something special, not something you've already seen before. You also want to please Daniel and the producers, so you have all that pressure on you. But it's also one of the only franchises you can do this [to that extent,] because they give you the time to prepare and rehearse. That's something you don't have on all films. It's rare to have the resources, to have the time to find the concept.
Is there an added responsibility that comes from working on a franchise that's known for having some of the greatest stunts of all time?
Of course, yes. When I heard about the job, I said, "How could I say no?" I had a taste of it on "Spectre," [which Schneider did fight choreography for,] but this was going to be a different scale. I had the chance to observe and work with the most efficient and amazing team around me [that was] working with me every day. When you have the right people around you—and I'm not just talking about the stunt department, but all departments—you have to match that. All together, it's like we become one person for the film. Everybody can count on everyone else. So you feel the pressure at the beginning, but then you feel reassured with all this talent around you.
Prior to shooting, what is your process for working with actors and preparing them?
The actor's time is very precious. For example, Daniel has to be everywhere—because he's on camera, he's behind the camera, he's producing, he's acting, he's part of the writing process. His schedule is very, very tight. What I do as his trainer—not so he can be in good shape, physically speaking, but stuntwise—I always do some stunt [previews] with his double. Then I do an edit and I show that to Daniel so he can see exactly what it's going to look like. Then we start working with him on that stunt specifically. You don't have the time to work on general moves; you want to work with him on the specifics, on what he is going to have to do on the day…. Then we film it, do an edit, show that to Daniel, and Daniel says, "I like this; I don't like that; let's change that." You can't monopolize an actor for four hours a day.
And then on the day, how do you ensure everyone is safe and the actors can focus on their jobs?
We have someone in the crew in charge of safety. So first, I write down a risk assessment that describes all the action scenes. What is it? What is the safety risk? We do a safety briefing every day: How are we going to do this with all the detail? Then, before we shoot, we do a test, making sure everything is there and everything is ready. When it's ready, we try shooting it with a camera. And once everyone knows what they have to do, when we know everything works well, then we have the actor do it.
What should someone do if they want to become a stunt supervisor?
You need to first become a good [stuntperson]. You also have to be clever; it's not just the physical part. We need to learn every aspect of the job. The more you know, the more you can include different things in your work. For a young [stuntperson] now—because we need more and more in front of the camera—I recommend they go and do some acting classes and be able to deliver a line. That is going to bring them more work but also make them comfortable with being on camera. Have some knowledge about editing, writing, how to read a script, and how to understand culture in terms of cinema.
This story originally appeared in the Feb. 10 issue of Backstage Magazine. Subscribe here.