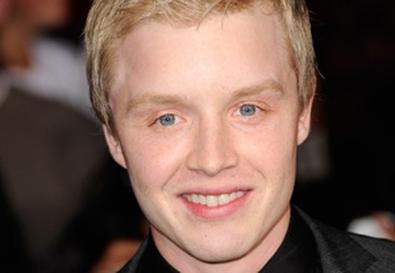 As if working steadily for the last 14 years isn't enough, 28-year-old
Noel Fisher
has three major projects debuting almost concurrently. By the end of year, he will be seen as Vladimir, a 3000-year-old Romanian vampire in the final chapter of the mega-phenomenon,
"The Twilight Saga: Breaking Dawn Part 2
." He has enjoyed a recurring role-and soon to be series regular-on the hit Showtime program
"Shameless,"
playing the bully Mickey Milkovich opposite William H. Macy and Emmy Rossum. And, on May 28-30, he tackles the mentally challenged Cotton Top Mounts in the History Channel's miniseries,
"Hatfields and McCoys"
with Kevin Costner and Bill Paxton.
"It's been a big couple of years," Fisher concedes, sounding floored as he considers it. "I'm proud of each of the projects and they're all so different. I suppose the most challenging is Cotton Top, playing someone who has such a different take on the world. I had to figure out why he makes the decisions he makes. I couldn't rely on my own thoughts or how I would perceive things. I learned a lot from a friend who works with kids with mental disabilities. I had to mix instinct with non-instinct."
Mickey posed other challenges, not least finding the character's redeemable qualities, even though he commits heinous acts. Mickey is so closed off and self-interested he almost seems sociopathic, says Fisher adding viewers don't have to like Mickey, but they should be able to understand him.
As for "Twilight," the task was grappling with the scale of the project-from the size of the budget to its high-profile stars. It was a revelation for Fisher that so many of his fellow cast members were down to earth despite the fanfare that surrounds them.
He does not take for granted the opportunities he's had or the actors he's worked with, many of whom have served as teachers. Fisher continues to be impressed by Costner and Paxton's technical knowledge in addition to their acting talents. He found Bill Macy's kindness and accessibility especially inspiring.
Little Formal Training
Brought up in Vancouver, British Columbia, Fisher discovered acting thanks to the many extra-curricular activities his parents arranged for him, including ballet, jazz, circus training, drawing, and judo. They were all fine and well, but "the acting stuck," he recalls.
It's been relatively smooth-sailing ever since. When he was 13 he appeared as the Artful Dodger in a community theater production of "Oliver Twist," and landed an agent who started sending him out on auditions. Six months later he booked the title role in the TV movie, "The Sheldon Kennedy Story," inspired by the real life experiences of a hockey player who was molested by his coach. For his performance, Fisher was tapped for a Gemini Award, the Canadian equivalent of an Emmy, which was followed with a second nomination for his work on the hit Canadian series "Godiva's." Throughout Fisher attended school or had private tutors and maintained a good grade average. His parents insisted upon it.
More striking he has had little formal training short of an occasional class. The prospect of attending any one program that promotes only one approach is not to his liking. "I prefer going to different teachers and classes, getting something from everyone and then figuring out what works, custom tailoring an approach for me," he emphasizes.
Fisher says his method largely depends on the character. As an example, since Cotton Top is so far removed from his personal experience, he found his way into the character through research and interviews. By contrast, he discovered Mickey through self-analysis, "exploring how I would protect myself if I had a secret," he says.
Versatility is Fisher's hallmark and clearly he is landing good projects. "That always starts with the writing and the script's ability to suck you in and, like any great book, make you unable to put it down," he notes. "I usually find that if the script is well written it will have quality characters and if there are quality characters the odds are the script is pretty good."
Fisher has not appeared on stage since he was a youngster, but he would like to give it another shot. He cites as a role model Andrew Garfield who starred in a blockbuster film like "Spider-Man" and then played Biff in "Death of a Salesman" on Broadway. "To continue to explore what you do--that's a wonderful quality," he says. "It's necessary."
Outtakes
-Featured in the film "Battle: Los Angeles," the mini-series "The Pacific," "Band of Brothers," and guest starred on such series as "Two and a Half Men," "The Mentalist," "Law & Order: SVU," and Fox's "Bones," among many others.
-Had breakout performance in FX series "The Riches," portraying Cal, the conniving son of the characters played by Eddie Izzard and Minnie Driver