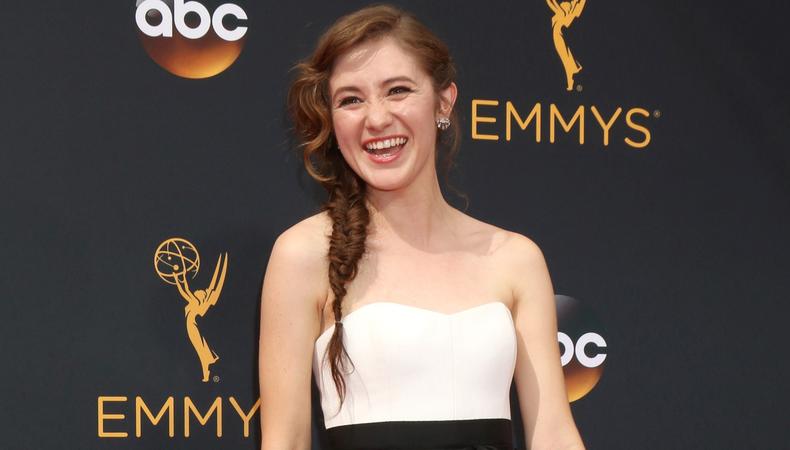 For a career short on years, Noël Wells' path has been a long and winding one. After an array of small comedy parts and an acrimonious one-year stint on "Saturday Night Live", the 30-year-old San Antonio native played a big part in the success of Aziz Ansari's Netflix series "Master of None" with her charismatic turn as Rachel. Now, Wells looks to continue this upward trajectory and expand her artistic repertoire. "Everything that you do leads up to the bigger thing," Wells says, and right now that bigger thing is her feature writing and directorial debut, "Mr. Roosevelt," which went on to nab the Narrative Audience Spotlight Award and the Louis Black "Lone Star" Award at SXSW.
Wells stars as Emily Martin, a struggling L.A. actor and comic in personal and professional disarray who returns to her college town of Austin, Texas, following an unexpected death. By turns a charming farce and an endearing, vulnerable portrait of ramshackle young adult soul-searching, "Mr. Roosevelt" could not only solidify Wells' star power, but also announce her as an adept behind-the-camera talent. The newfound position is no small feat.
READ: 'Most Beautiful Island,' 'Mr. Roosevelt' Steal the Show at 2017 SXSW
Wells has exercised dogged perseverance to get to this juncture, navigating obstacles and nuisances familiar to any actor—intimidating workshops, bad advice, and dead-end jobs—on her journey towards artistic realization. Now that she's nearing the other side of the storm, she reflects on the importance of staying true to yourself and not kowtowing to others' demands.
Back when she first moved to L.A., Wells says a "really, really mean" casting director told her, "If you show up to an audition and you're not completely word-perfect off book, you might as well not come." But, she says, the best advice she ever received was a counter to that. "Someone told me, 'Don't listen to that guy. Whatever you are doing in the moment, the best version of that is going to be what matters the most.' Because really, what they're looking for [in an audition] is something they haven't seen before. And the only way you'll do that is if you're just yourself—because there's only one of you!"
There are surface similarities between a younger Wells and her character of Emily Martin: both University of Texas at Austin grads schlepping through survival jobs while trying to find their way in the L.A. improv and entertainment scene. (Wells studied at the Upright Citizens Brigade where she became a part of their sketch team.)
Although "Mr. Roosevelt" was the actor's first feature at the helm, a varied history of self-made sketches and shorts creation in L.A. primed her for a down-to-business directorial mindset. That approach proved necessary, as the film shot in just three weeks on an indie budget where, Wells explains, "there's no time for rehearsals. The minute the production starts, money's rolling out the window." On top of that, the film was shot on Kodak 35mm by cinematographer Dagmar Weaver-Madsen, eliminating some of the looseness of a digital shoot.
Those technical elements and lack of prep compounded the challenge of working with a large cast of mostly new faces. "The biggest lesson for me was to realize not everybody's already in my head. If I needed something [from an actor], I had to figure out how to articulate myself in a way that wouldn't make them feel bad.... I learned a lot, and I think by the end we all understood that I wasn't a crazy, insane person."
Wells sees herself continuing to write and direct projects. "You do your sort-of autobiographical movie [first], because that's the one you'll have the biggest handle on," but, she hopes to pivot to writing for others in ensemble projects. "I see so many talented people around me all the time with creative energy, and sometimes people just aren't creating opportunities for them to shine, and I like doing that."
Looking for your own part in an up-and-coming indie project? Check out Backstage's film audition listings!