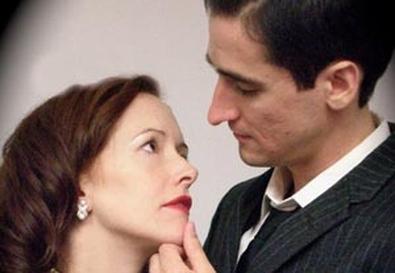 At first it seems that playwright Stan Werse wants his "Noir" to be a parody of the moody detective movies of the late 1940s and early '50s. The play begins with a sad saxophone wailing and a tough-looking plainclothes cop named McQue standing in a spotlight delivering a monologue typical of the hardboiled genre. It's all about the laws of the urban jungle, with a couple of satiric jibes thrown in. Actor Michael McCoy delivers it with such a deadpan expression that it almost comes across as a part of a comedy sketch.
But as the piece continues the jokes vanish, and "Noir" became a respectful tribute. Werse constructs an intricate plot revolving around a boy-scout policeman corrupted by a beautiful widow. The cynicism-laden dialogue is spoken with the right snap by the four-person cast—in addition to McCoy, there's Andrew Dawson, Darrell Glasgow, and Abby Royle. Along with director Marc Geller, they take the material as seriously as a handgun pointed in their faces.
Daniel Dungan's lighting, Jack Kennedy's sound, and Ashley Rose Horton's costumes create the appropriate dark and dangerous atmosphere.

Presented by Stan Werse, in association with N.J. Rep, as a part of the New York International Fringe Festival at the Connelly Theater, 220 E. Fourth St., NYC. Aug. 17–25. Remaining performances: Fri. Aug. 19, 2 p.m.; Sun. Aug. 21, 1 p.m.; Mon., Aug. 22, 9:30 p.m.; Thu., Aug. 25, 8:45 p.m. (866) 468-7619 or www.fringenyc.org.