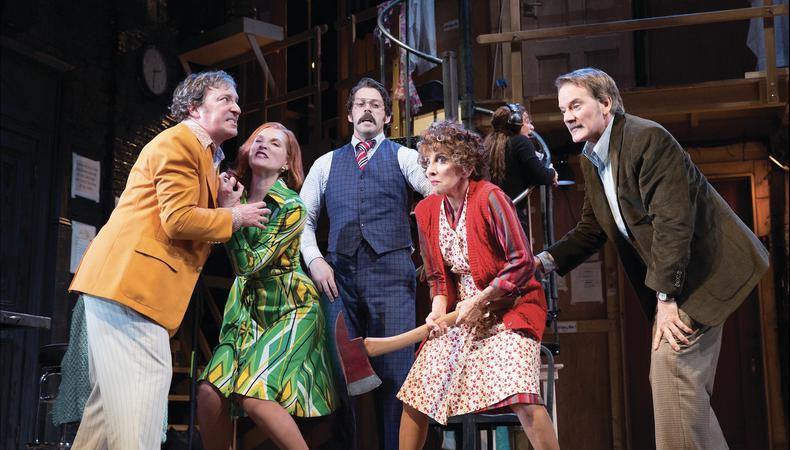 For a Broadway director, the hushed politics of "Wolf Hall" aren't exactly a logical precursor to "Noises Off." Fresh off his Tony-nominated staging of the somber Tudor-era drama, Jeremy Herrin is now shifting gears to the Roundabout production of Michael Frayn's classic 1982 farce, considered by many the finest example of the genre. As he suggests, it takes far more directorial finesse to stage madcap comedy than English history; farce is practically more science than art.
" 'Noises Off' felt, to me, like a massive challenge because there's so much going on technically," the director says. "You've got to be much more precise about where the audience looks." As with any project he takes on, Herrin looks for "what the trajectory is, what the writer's intention is, and how to deliver that onstage." But fine-tuning every beat in the impeccably structured chaos of Frayn's play-within-a-play requires an intimate knowledge of comedic timing and clarity.
"Comedy is always information. What information does the audience need at any given moment? All drama seems to be about objectives and obstacles, characters wanting things and being unable, for whatever reason, to get them. And farce is very much like that—only with the volume and the momentum turned up."
Rob McClure, who plays the play's sleep-deprived stage manager, Tim Allgood, likens the show to "the fastest car you can drive," with bigger and bigger laughs accelerating as the antics unfold onstage. "Sometimes I feel like farce gets a bad rap," he says. "The terms that come to mind are 'larger than life' and 'over the top.' But I feel like the people in a farce are very much real people with their feet on the ground. It's the circumstances that are extraordinary."
Casting a true farce, then, does not mean finding the goofiest physical performers available (although slapstick is a helpful skill). "You actually need great actors who feel like real people and then can allow the stakes of the situation, of the ridiculousness around them, to pull them to such a frenzied state," McClure explains. "I would dare say that every one of these [characters] think they're in a tragedy. And the less funny they think it is, the funnier it is for the audience."
In a way, says Herrin, farce is straightforward; there are no shades of gray. "This character wants to get out that door, this character wants to stop them. But it's very complicated in the delivery because it's all about the logistics. You can spend a whole morning on a three-line exchange of dialogue because there's such a complicated amount of movement."
For Roundabout's cast of nine (which includes Andrea Martin, Megan Hilty, Daniel Davis, David Furr, Campbell Scott, Tracee Chimo, and Jeremy Shamos) this has meant exhaustingly physical rehearsals. "The play is an athletic event," says Kate Jennings Grant, who plays gossipy busybody Belinda Blair. "It's a perfectly constructed farce. So if you just do as you're told, and can survive it and be alive by the time the curtain comes down, it'll be great."
The success of all these sharp character choices, rigorous practice, and focus on visual specificity hinges on one final ingredient: an audience. "The first preview is really interesting because it always tells you how good your guess was," Herrin says. In terms of distinguishing funny from unfunny, audiences are a play's most truthful scene partners. "That's my job," says Herrin. "To imagine what it's like to be a member of the audience. It's imagining what it's like to not have any information about 'Noises Off.' I'm quite good at forgetting what I know."
Inspired by this post? Check out our Broadway audition listings!