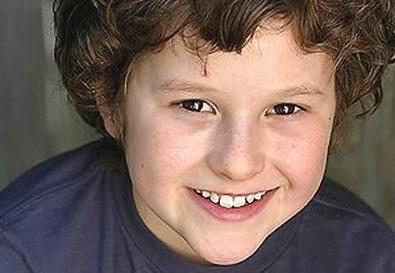 Nolan Gould is one special kid. An actor since the age of three and a certified member of Mensa, he's on his way to becoming a household name before he reaches his twelfth birthday. Nolan currently stars as Luke Dunphy on ABC's new hit comedy "Modern Family" -- a mockumentary-style look into what it is like to be a family in today's society. Nolan has a full life outside of school and acting as well, with countless interests and hobbies to occupy his time. He also has some bold plans for the future, which he shared with us in this exclusive Actor2Watch interview.
ACTOR2WATCH: How do you like being on "Modern Family"?
NOLAN GOULD: I really love the show. People are really nice on set. The food is good. Everybody is really funny, not just when they're acting, but when they're off-set too.
A2W: What made you want to be an actor?
NG: I stared acting when I was like three. My brother was really smart, and he wasn't being challenged enough, so my Mom put him in the theater class. And I obviously followed him. And we both liked it so we started doing commercials, and then we built our way up to things like movies and stuff.
A2W: What do you do when you're not working? Do you hang out with other child actors?
NG: I have friends who are actors like Rico who's one of the kids on set. I'm friends with him and a bunch of other acting kids. I also have friends outside of acting -- like at my Boy Scout Troop, my church, at my classes.
When I get off work, I like to do a number of things. I like to play video games. I like to play with Rico. There's a website where we can get together and chat and play games with each other. I like to watch TV, cause on certain days shows like "The Big Bang Theory" or "How I Met Your Mother" come on. Those are really funny shows. I like to play with my dogs too.
I also like to go camping. I like to go hiking. I like to go rappelling, swimming, biking. I go boogie-boarding. I collect Hot Wheels. I collect glass. I collect coins. And I collect cards.
A2W: What kind of training did you get?
NG: A while ago I used to take acting classes, but lately I've been so busy that with school and "Modern Family," I don't really have enough time. I do an improv show on Sunday where we have a class, and then afterwards we go and do a live performance in front of an audience. It comes in really handy with the show because it's an improv class, and in the show we improv a lot.
A2W: What advice do you have for other young actors?
NG: If you want to be an actor you should keep confident. Don't get too much of an ego and become not humble. But you should have esteem and not feel bad when you don't book something. So I think you should just stay humble, but you also need to have some esteem to make yourself keep going.
A2W: How do you deal with not getting roles?
NG: I like to call those times when you don't book something a lot "dry season". And for me the "wet season", which is where I book a lot, it comes in waves. Like one month I'll have a whole bunch of bookings, and for a couple months I'll have none. Then one month I'll have another whole bunch. So during those times I just keep trying, cause I know that I'm going to book one someday. The more you audition the more likely you are to book something.
A2W: Who's your favorite actor and why?
NG: I would say Jim Parsons from "The Big Bang Theory." His demeanor and his little smirks, his little facial expressions just make me laugh cause it's funny. Ty Burrell from "Modern Family" is also really good. He's great at improving, and he acts like a little kid in the show. But the funny thing is he's actually a little kid basically.
A2W: Have you started getting recognized? How about fan letters?
NG: No, no fan letters yet. When I go into audition rooms, some of the acting people notice me and say "Hey, you're that kid from "Modern Family," right?" And so that's pretty cool. All my relatives back in Alabama know.
Our family comes from a bunch of different places. My Dad and his family always lived in the south. And my Mom was from Seattle. But we were in the Army so we moved around a lot. I was originally born in New York except I lived there for two weeks and then we moved to Alabama. So I consider Alabama and California my home states.
A2W: What are your goals for the future?
NG: Well one of my big goals has always been to own a big company called Nolan Co. that mass-produces things like cars and buildings and hotels and restaurants and theme parks. Like Donald Trump, and it makes everything there is.
THIS WEEK:Be sure to check our Back Stage's Spotlight on Young Performers!