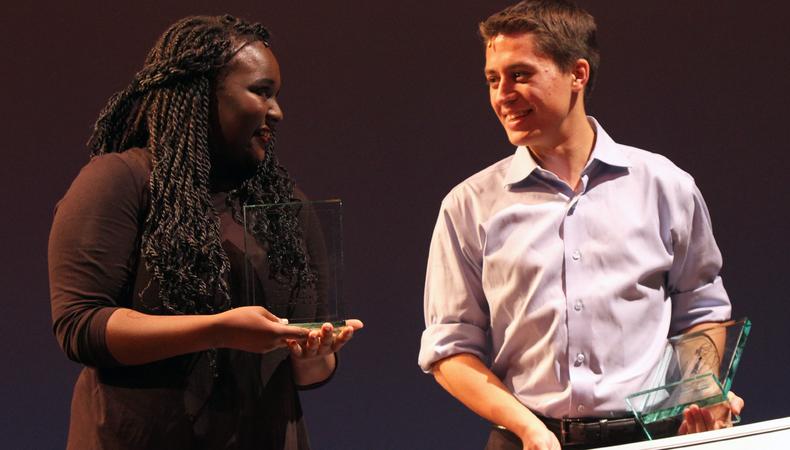 Seventy-four high school students representing 37 organizations from across the nation will compete for honors such as Best Performance by an Actor and Actress as well as scholarships at the ninth annual National High School Musical Theatre Awards, being held June 26 at the Minskoff Theatre.
Also called the Jimmy Awards, the competition gives high school musical theater students the opportunity to perform a show on a Broadway stage in an effort to take home honors and scholarships. In order to qualify to compete in the national program, students must win top recognition at regional high school musical theater competitions presented by Broadway League member performing art centers. These events see over 1,300 high schools and 50,000 students participating annually. Once chosen to compete at the awards, participants prepare for their debut on stage by training with professionals from the NYU Tisch School of the Arts' New Studio on Broadway for nine days.
Along with the physical awards, students have the opportunity to compete for academic aid.Since the creation of the National High School Musical Theatre Awards, students have earned over $1,000,000 in university and conservatory scholarships. Several participants have also gone on to be cast in Broadway, touring, and West End productions.
Winners will be selected by a panel of judges made up of theater professionals, including award winning producers and other distinguished casting experts. Ben Platt, Tony Award winner and the star of Broadway's "Dear Evan Hansen," will host the competition.
READ: How Ben Platt Landed His First Tony Nomination
During the ceremony, Brendan Jennings and Larry Robinson will receive the first-ever Inspiring Teacher Award for their encouragement and teaching that led their students to win the 2016 award for Best Performance by an Actor and Actress.
Founded in 2009, the National High School Musical Theatre Awards aims to raise the profile of musical theater in school, recognize dedicated teachers, and inspire the next generation of performers.
See below for a full list of the nominees!

| | | | | |
| --- | --- | --- | --- | --- |
| City & State | Theatre/Organization | Regional AwardsProgram | Best Actor Nominee | Best Actress Nominee |
| Albuquerque, NM | Popejoy Hall | The Popejoy Awards | Trey Caperton | Kayla Fallick |
| Appleton, WI | Fox Cities Performing Arts Center | Center Stage High School Musical Theater Awards | Felix Torrez | Liz Valentin |
| Atlanta, GA | Cobb Energy Performing Arts Centre | Georgia High School Musical Theatre Awards | Ramone Nelson | Parker Jennings |
| Buffalo, NY | Shea's Performing Arts Center | The Kenny Awards | Ian Hayes | Grace Auer |
| Charlotte, NC | Blumenthal Performing Arts | The Blumey Awards | Justin Rivers | Anna Hertel |
| Chicago, IL | Broadway In Chicago | Illinois High School Musical Theatre Awards | Justin Smusz | Carly Meyer |
| Cleveland, OH | Playhouse Square | Playhouse Square Dazzle Awards | Brandon Schumacker | Reyna Grace Moran |
| Dallas, TX | Dallas Summer Musicals | Dallas Summer Musicals High School Musical Theatre Awards | John Fredrickson | Shelby Priddy |
| Denver, CO | Denver Center for the Performing Arts | The Bobby G Awards | Austin Hand | Elleon Dobias |
| Des Moines, IA | Des Moines Performing Arts | Iowa High School Musical Theater Awards | Seamus Foley | Marisa Spahn |
| Durham, NC | Durham Performing Arts Center | Triangle Rising Stars | Nicholas Kraft | Kaylee Terrell |
| East Lansing, MI | Wharton Center for Performing Arts | Sutton Foster Ovation Awards | Antonio Cipriano | Catherine Elliott |
| Houston, TX | Theatre Under The Stars | Tommy Tune Awards | Ian Tonroy | Jasmine Rogers |
| Kansas City, MO | Starlight Theatre | Blue Star Awards | Joey Myers | Stephanie Ainsworth |
| La Mirada, CA | McCoy Rigby Entertainment | Spirit of the MACY Awards | Adrian Villegas | Maggie Gidden |
| Las Vegas, NV | The Smith Center for the Performing Arts | Nevada High School Musical Theater Awards | Nathan Sink | Adelynn Tourondel |
| Logan, UT | MagicSpace/Utah Festival Opera & Musical Theatre | Utah High School Musical Theatre Awards | Levi Hopkins | Jessica Lewis |
| Los Angeles, CA | Hollywood Pantages/Nederlander | The Jerry Herman Awards | Cameron Vargas | Brighton Thomas |
| Madison, WI | Overture Center for the Arts | Tommy Awards | Max Pink | Jessica Minter |
| Memphis, TN | The Orpheum Theatre | The Orpheum High School Musical Theatre Awards | Ethan Benson | Asia Smith |
| Midland, PA | Pittsburgh CLO/Lincoln Park Performing Arts Center | Mancini Awards | Jacob Swanson | Addison Albert |
| Nashville, TN | Tennessee Performing Arts Center | Spotlight Awards – Nashville High School Musical Theatre Awards | Nathan Keffer | Hatty King |
| New York, NY | Disney Theatrical Group/Camp Broadway | The Roger Rees Awards for Excellence in Student Performance | Dean Klebonas | Maddie Rubin |
| Omaha, NE | Omaha Performing Arts | Nebraska High School Theatre Awards | Lane Mongeon | Lauren Johnson |
| Orlando, FL | Dr. Phillips Center for the Performing Arts | Applause Awards | Tony Moreno | Sofia Victoria Deler |
| Palm Springs, CA | Hollywood Pantages/Musical Theatre University | Lucie Arnaz Awards | William Webster | Laurel Bollard |
| Pittsburgh, PA | Pittsburgh CLO | Gene Kelly Awards | Jake Pedersen | Chloe Kehm |
| Rochester, NY | Rochester Broadway Theatre League | Stars of Tomorrow | Jack D'Angelo | Shelby Ennis |
| San Antonio, TX | ACE Theatrical Group, LLC/Las Casas Foundation | Joci Awards | Preston Perez | Adriel Salinas |
| San Diego, CA | Broadway/San Diego - Nederlander | The San Diego Ben Vereen Awards | Sky Frank | Jillian Strattman |
| San Jose, CA | Broadway San Jose | The Rita Moreno Awards | Eric Gaydon | Natalie Bourgeois |
| Schenectady, NY | Proctors | Proctors High School Musical Theatre Awards | Patrick Shannon | Jaynie Parmenter |
| Seattle, WA | The 5th Avenue Theatre | The 5th Avenue Awards | Morgan Roberts | Samuel Bennett |
| St. Louis, MO | The Fabulous Fox/The Muny/Fox Performing Arts Center | St. Louis High School Musical Theatre Awards | Briley Blade | Maggie Kuntz |
| Tampa, FL | Straz Center for the Performing Arts | Broadway Star of the Future | Christian Meany | Maggie Musco |
| Tempe, AZ | ASU Gammage | ASU Gammage High School Theater Awards | Sam Primack | Briana Fleming |
| Tucson, AZ | Broadway in Tucson | Southern Arizona Ben Vereen Awards | Luke Gaff | Sophia Rose Franklin |