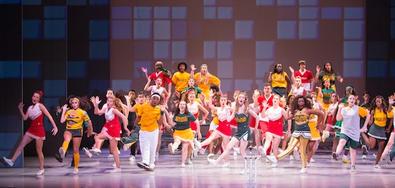 As its name suggests, when Houston's Theatre Under the Stars (TUTS) began in 1968, it offered al fresco theater, performing free-to-the-public musical productions in an open-air amphitheater. The name may have remained, but a lot else has changed. TUTS now produces a six-show mainstage series, as well as a four-show black box series, called TUTS Underground, in the 500-seat Zilkha Hall—housed in the modern Hobby Center for the Performing Arts downtown. In addition, TUTS presents at least one free outdoor show each summer, and about half of the productions are locally-produced versions of classic musicals, many with local talent, though TUTS also imports current Broadway touring productions.
David Griess has been associated with TUTS, starting in 1972 as a member of the inaugural class of the Humphreys School of Musical Theatre (and a performer for several seasons), and for the last 18 as a staff administrator. (He's currently the director of sales and marketing). We asked Griess about TUTS' outreach and education mission, its efforts to attract younger audiences, and the programs he's most proud of.
TUTS is known for its education and outreach, especially to young actors. Tell us about the Humphreys School! The youths that appear in our professional productions all come from our Humphreys School, which has approximately 1,800 students that come to TUTS for audition-based, technique-driven musical theater instruction—acting, singing, dance—as well as for more relaxed open enrollment classes. In addition, our outreach programs in the community encompass everything from local schools to YMCAs and hospital visitations.
What, in your experience, has made TUTS irreplaceable to the cultural life of Greater Houston? TUTS is the only professional nonprofit musical theater company in Houston. We present the very best of touring Broadway in addition to self-producing the classics for a new generation. Actors and creative teams for our shows include talent from the Houston area as well as from New York and Los Angeles. In our new TUTS Underground series in Zilkha Hall, we present a more intimate, contemporary, Off-Broadway musical experience including new works and Houston premieres. We are successfully attracting a mix of traditional as well as younger theatergoers [through Underground]; that subscription base has more than doubled in the past two seasons.
Another unique thing we've been able to do is in 2010, the River Performing and Visual Arts Center merged with TUTS. This enabled us to provide accessible, affordable fine arts education for individuals who have disabilities.
Which of TUTS' contributions to the community are you most proud of? Our annual Tommy Tune Awards, created by TUTS in 2002; they recognize and reward excellence in the production of musical theater by high school students and their teachers. The winners of the best male and best female performer are sent to New York to participate in the national program. Seeing kids from over 45 area schools come together and celebrate the talent and months of hard work in getting these productions on their feet is truly awe-inspiring!
TUTS' next show, the national tour of the Tony-winning, "The Bridges of Madison County," runs Jan. 19–31. TUTS will also announce its 2016–17 season in mid-January. The Tommy Tune Awards will be presented April 19.