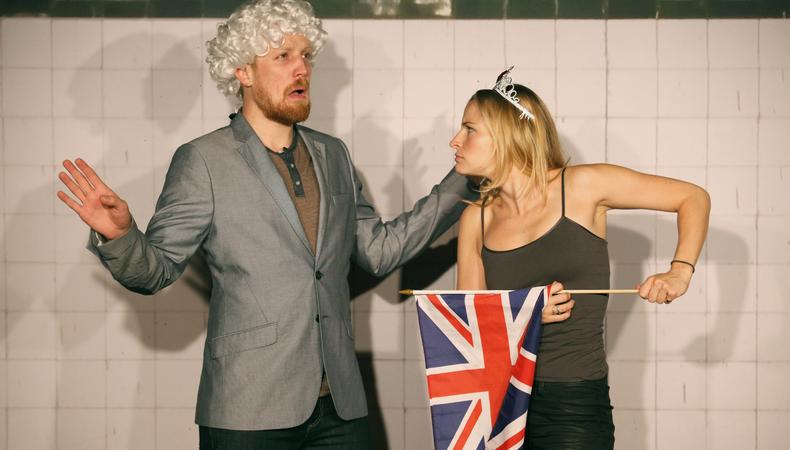 How am I going to stretch this out into a full review? There's so little to say about "How to Be a New Yorker," the nonmusical revue of New York facts, sketches, and stereotypes playing at Sofia's Downstairs Theater. The writer-performers—native New Yorker Margaret Copeland and transplanted Ohioan Kevin James Doyle—aim most of their material at non–New Yorkers, judging from the rapid pileup of unsurprising premises and assumptions about the Big Apple.
Both are licensed tour guides, fresh-scrubbed and cheery and not really exuding five-borough personality and savvy. They spend a lot of time convincing us that New York is safe, a comforting thought for a family visiting from Iowa but no great revelation for the rest of us. They throw out predictable applause lines. Yell "Brooklyn!" or "Yankees!" and you can be guaranteed a modest hand. (Comden and Green brilliantly satirized this sort of cheap-gratification thing nearly 60 years ago in the film "It's Always Fair Weather.") They do dialects; she's a bit better than he is, rapidly going from Alabama to French to Aussie in a game-show spoof about New York titled, yes, "Is It Safe?"
They do monologues, including a long, pointless one from him about newly arriving in Brooklyn, going to a Chinese restaurant with a dollar in his pocket, and ordering brown rice, and one from her in which she claims to have been mugged 15 times. (And it's safe?) They do a three-part history of the city, starting with the Dutch robbing the Indians of Manhattan (at pistol point, ha ha) and treading gingerly up to Sept. 11, which they wisely avoid. They intersperse video segments, one in which he tries to interview locals about NYC (and they're too rushed to talk, ha ha) and another in which a few New Yorkers do stop long enough to impart what they love most about the city: Times Square, the energy, the diversity, yadda yadda. They fold in a couple of skits that embody the boroughs: One, set in 1883, has him as Manhattan and her as Brooklyn, with the two of them lamenting that they're so near and yet so far and wishing "we could bridge our differences." That's the humor level.
Copeland and Doyle seem like nice people, and I'd gladly watch either of them in something with sharper writing. There are cute moments: a loving spoof of Dylanesque folk music circa 1961 and a sketch portraying Robert Moses and Jane Jacobs as rival superheroes bent on destroying or preserving the West Village. But boy, the show is safe. Betty and Adolph would have dug deeper into the NYC fabric; found more creative, lacerating ways of satirizing it; and topped it off with some sly musical special material. There's none of that here. This being the basement at Sofia's, the evening does come with an Italian pasta, salad, and chicken buffet. The food's fine.
Presented by CRC Productions and Marie B Productions at Sofia's Downstairs Theater, 221 W. 46th St., NYC. Opened Oct. 17 for an open-ended run. (212) 352-3101, (866) 811-4111, www.theatermania.com, or www.how2banewyorker.com.
Grade: D+