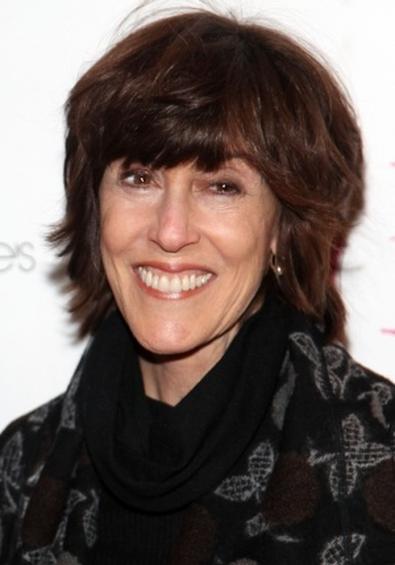 When Academy Award-nominated writer, director, and producer Nora Ephron died earlier this summer, she left behind "Lucky Guy," her new play about New York newspaperman Mike McAlary that had been intended for Broadway. The play's producers quickly announced that they were committed to finishing her final work, though, and according to a new Equity casting notice, they've kept their word: The show will open on Broadway for a limited engagement next spring, with auditions scheduled for early October.

"We are honored to be part of her legacy and remain committed to seeing her magnificent work 'Lucky Guy' shine on Broadway," producer Colin Callender said of Ephron in a statement in June. He added that the producing team, which also includes Roy Furman and Arielle Tepper Madover, "can think of no more fitting tribute to her extraordinary writing and remarkable body of work" than to stage the show as planned.

Rehearsals will begin Monday, Jan. 14, 2013. The limited engagement is scheduled to run March 1–June 16, 2013, at a Shubert theater to be announced. George C. Wolfe ("The Normal Heart," "A Free Man of Color") will direct, and casting directors Jordan Thaler and Heidi Griffiths are holding auditions in New York for Actors' Equity members Oct. 3–5.

"Lucky Guy" follows New York Post and Daily News columnist Mike McAlary from 1985 until his death in 1998, as the tabloid reporter rose to fame writing about the crime-ridden New York City streets and won a Pulitzer Prize for his coverage of the New York City police brutalization of Abner Louima.

Tom Hanks was in negotiations to star as McAlary before Ephron's death. While no official announcement has been made, the role is reportedly cast and auditioning actors will only be seen as possible understudies.

Available roles include middle-aged African-American man Hap Hairston, an editor who is comfortable with the controlled chaos of the newsroom and who is brilliant at inspiring reporters; John Cotter, an old-school Irish-American newspaperman and McAlary's mentor who loves the hard-working, hard-drinking culture of the city newsroom and thrives on the competitive pressures of the tabloid wars; Eddie Hayes, a tough Irish-American lawyer; Alice McAlary, Mike's loyal Italian-American wife; Michael Daly, a young columnist at the Daily News who spends a lot of time in the trenches with Mike; Jim Dwyer, a Newsday columnist who watches McAlary's success with increasing frustration; and Abner Louima, a Haitian man whose story of being wrongly beaten and arrested by police is turned into a Pulitzer Prize-winning exposé by McAlary. In addition, male and female actors will be cast to play one or more roles including reporters, editors, police officers, and criminals.

Equity principal auditions will be held Wednesday, Oct. 3, through Friday, Oct. 5, in New York City. For more information and audition details, view the full casting notice online at Backstage.com. Actors should prepare a contemporary monologue.

Ephron was recently represented on stage with "Love, Loss, and What I Wore," which she co-wrote with her sister Delia. Her film credits include "Sleepless in Seattle," "When Harry Met Sally," "You've Got Mail," "Julie & Julia," and more.

Thaler and Griffiths have collaborated to cast productions at the Public Theater/New York Shakespeare Festival for nearly two decades, casting more than 200 shows Off-Broadway and at the Delacorte Theater in Central Park. The duo's Broadway credits include "Chinglish," "The Tempest," "The Wild Party," "Take Me Out," "Caroline, or Change," "Passing Strange," "Hair," "The Merchant of Venice," and "The Motherf**ker with the Hat."